Connecticut Radio DJ Gary Craig's Racist Video About a Latino Festival Has People Pissed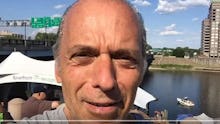 When Connecticut radio DJ Gary Craig walked into Hartford's Latino Fest, he felt like he was entering a "parallel universe," according to a now-deleted YouTube video.
Throughout the video, Craig makes a series of racist, ignorant remarks regarding the festival. As he pans his camera across the crowd, Craig says, "I don't know what the hell this is." 
He then proceeds to yell, "Help! Help!" as he walks past a number of Latinos while speakers play music in Spanish. 
When the host walks up to a piña colada stand full of Puerto Rican flags, Craig says "Now I don't have to go to Cuba!" He then proceeds to sing, "I love Lucy and she loves me," a song that Cuban actor Desi Arnaz used to sing on I Love Lucy. 
Victor Luna, Latino Fest's founder and organizer, called the video "disappointing, shocking and uncalled for," the Hartford Courant reported. The Courant later ran an entire editorial condemning Craig and his video. 
Hartford mayor Luke Bronin called the video "repulsive and bizarre," and said "the festival was everything I love about our city," a local Fox affiliate reported. According to the U.S. Census Bureau, Hartford is 44% Latino. 
The Courant also reported that city councilman Julio A. Concepcion called the comments "completely insensitive and degrading." 
"Whether made in jest or not, his racist undertones are absolutely inexcusable and should be condemned by his employer," Concepcion said.
And his employer has taken action. According to the Courant, WTIC, the station where Gary Craig hosts a radio program, has suspended Craig until July 5. 
In the wake of Craig's racist video, Latino media group Latino Rebels also found and posted another gem — a video in which, while looking for "strange foods" he'd never eaten before, Craig goes to a series of Latino food trucks in New Haven. 
In this video, Craig pokes fun at the religious-sounding name of "tacos al pastor," seems to mispronounce or exaggerate the names of many foods and asks if mofongo, a dish made of mashed and fried plantains, means "fuck you with shrimp" in English. 
When Craig sees a dog walking near the trucks, he says someone should scoop it up "before it becomes the next special." 
While Craig's trip to Latino Fest is no longer on YouTube, local affiliate WFSB has the full video. 
If Craig is still wondering if he entered a parallel universe, he should know he didn't. It's what we all call the United States of America.
Read more: