Amber Rose Says Ian Connor Has Raped 21 Women, Not Just 7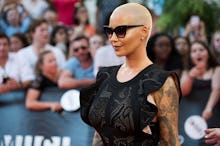 As rape allegations continue to stack up against stylist and friend-to-Kanye-West Ian Connor, Amber Rose has big news. Some seven women have so far accused Connor of sexual assault, but in an interview with the Daily Beast, Rose corrected that figure. There are about three times as many victims as have currently come forward in the media, she said.
"Honestly, seven came out and I'm pretty sure 21 women have reached out to me so far. So I'm assuming there are more [stories] coming out. It's innocent until proven guilty, but when you have 21 women from all over the world that do not know each other but have similar stories, it gets to the point where it's like ... enough."
During the interview, Rose talked misogyny in hip-hop and her feminist evolution. Rose's Slut Walks — large-scale demonstrations in which women gather, dressed in their skimpiest garments, to protest the sexualization of women and the violence against them it engenders — offer a platform for victims to discuss abuse. Many of Connor's victims want to share their stories on her stage, she explained.
"I'm not a lawyer," Rose said. "I can't prosecute anyone or say, 'What she's saying is exactly the truth.'" What she can do is give Connor's victims a place to talk. 
Connor was part of the A$AP Mob before April's rape allegations; since then, many of its members — including Theophilus London, A$AP Bari and Kerwin Frost — have hit back against him. West, another of Rose's exes, has so far remained silent. But when Rose speaks up, a West Twitter tantrum is almost assured to follow.
Read more: