The NRA Just Censored 38,000 Sites to Take Down a Parody Video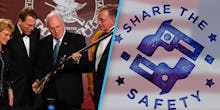 For the most powerful lobbying organization in the country, the National Rifle Association has pretty thin skin.
A parody site created by activist performance duo the Yes Men drew such heavy fire from the NRA on Tuesday that the pro-gun lobby managed to censor 38,000 sites just to take it down. The site they were after is called Share the Safety — a fictitious charitable campaign where the NRA will, for every firearm you purchase, donate a gun to a disadvantaged urban youth.
The site is clearly meant to lampoon the NRA's classic narrative about the supposed threat to the safety of white America in the face of the country's poor urban minorities. Here's the video from the campaign:
The NRA wasn't happy. By filing a legal complaint, the web hosts that keep the site up and running, they managed to knock it offline. But Share the Safety was hosted by a blogging platform called Surge, and when Surge was taken offline by its own host, Digital Ocean, it took down all 38,000 sites hosted by Surge.
Surge took to Twitter to explain the details Tuesday evening:
So throughout the day, Surge's 38,000 sites were all down because of the NRA's pressure on its hosts.
The NRA looks, at first, to have a rightful claim, since the video and website used NRA logos and claimed NRA copyrights. In fact, the site is clearly crafted to look as authentic as possible. The Yes Men have a history of stunts that make their points less through easy laughs than clear deception.
In 2007, the Yes Men men impersonated ExxonMobil representatives at a conference to introduce the oil industry to their proposed solution to global oil: oil made out of human beings. They've impersonated employees of oil giant and military contractor Halliburton and have distributed tens of thousands of fake newspapers. 
But as Motherboard points out, parody is parody, and is protected by trademark law. Surge's sites went back up late Tuesday night, and soon after, Share the Safety came back too.
We've reached out to Surge to for more information on their dispute with the NRA, and will update this post with more info if we hear back.
Read more: