Britney Spears v. Christina Aguilera — It's Time to Settle Biggest Rivalries in Pop Music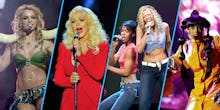 Pop music thrives off its rivalries. Whether stars are sniping one another at award shows, fan armies clashing on Twitter's battlefield or artists edging one other to cut the bigger album — being a music fan is never more exciting than when the stakes are high. 
There's been a major contest at pretty much every stage of pop's development. It was the Beatles v. the Rolling Stones in the '60s and Nirvana and Pearl Jam in the '90s, up to the immortal struggles of the early '00s, when every major artist faced off with their converse: Britney Spears v. Christina Aguilera, Backstreet Boys v. 'NSYNC and Destiny's Child v. TLC. 
The thing about these rivalries is fans rarely see who comes out on top. They can debate and infer based on the way careers run their course, but definitive evidence about whose music can truly stand the test of time is hard to come by — until now. 
In partnership with Spotify, we've dug through the annals of pop history and the platform's databases to try and put to rest some of the biggest rivalries in pop music history, in both the rock and bubblegum realms. Every percentage represents the share of combined total streams each artist has earned since Spotify's launch. 
Without further ado, the winners are:
Britney Spears v. Christina Aguilera 
From humble Disney Channel beginnings to their current seats as Queen of Vegas and Queen of The Voice, the Britney and Christina rivalry has followed many young folks throughout their lives. Both have cut extremely memorable songs for the dance floor and for bedroom LiveJournaling sessions, but Aguilera's are timeless. However, come Britney 9, all this may change.
Destiny's Child v. TLC
Beyoncé's continuing success, as well as Kelly Rowland's, have likely helped keep Destiny's Child's old hits, like "Bootylicious" and "Survivor," in rotation. Still, "No Scrubs" will always be a necessary summer anthem.
'NSYNC v. Backstreet Boys
There are times when a former member's continued relevance doesn't exactly lift the status of their group. Case in point: Justin Timberlake and *NSYNC. No member of the Backstreet Boys has been able to remain as reliable of a power player in today's pop as Timberlake. However, "I Want It That Way" is apparently just too good.
Elton John v. Madonna
This one transcends rivalry into straight up beef territory. As recently as 2012, Elton John was calling Madonna "a fucking fairground stripper" saying "her career is over." Of course, it's not over until Madonna says it is, and John has since apologized. One more album and Madonna might close the gap. Of course Elton John's rumored Young Thug collaboration could also seal the deal in his favor.
Rolling Stones v. the Beatles
Getting into the rock side of things now: The Beatles were held out from the streaming game for a long while before finally uploading their catalog in December. To ensure a fair measure, this one only tabulates streams for the two bands since then, and while the Fab Four may have come out of the gate strong, the Rolling Stones have since edged ahead. 
Oasis v. Blur
Throughout the '90s, Oasis and Blur had a field day ripping on each other for the media's extreme pleasure. In 2014, Damon Albarn of Blur conceded defeat, admitting Oasis was the better band. The streaming numbers tell the same story. 
Pearl Jam v. Nirvana
Nirvana front-man Kurt Cobain despised Pearl Jam. He was convinced they were sell-outs, "pioneering a corporate, alternative and cock-rock fusion." Yet Pearl Jam has continued to remain relevant, headlining the Global Citizen Festival over Queen Beyoncé in 2015. 
Vampire Weekend v. Arcade Fire
In the hey day of indie rock, two bands stood out above all the rest of the laid-back, moody din: Arcade Fire and Vampire Weekend. Each band inspired scores of copy cats. But Arcade Fire came out soundly on top on Spotify — even though their lead singer and songwriter is one of Tidal's executives.
Bonus: Drake v. Meek Mill
The struggle for the throne is embedded deep in the heart of hip-hop culture. It rallies fandoms and manifests in the music in entirely different ways than pop rivalries. The genre's most recent beef, started when Meek Mill came for Drake, accusing him of ghostwriting — a cardinal sin in hip-hop. As immoral as it may be, it's clearly working out for Drake. 
Read more: