A Journalist Tweeted About How He Came Face-to-Face With the Istanbul Airport Attackers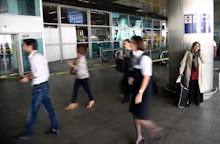 Iraqi journalist Steven Nabil was grabbing food at a Sbarro's inside Istanbul's Atatürk Airport when he heard the initial gunshots from Tuesday's attack.
Nabil, who is based in New York, had been preparing for a flight home from his honeymoon with his new wife. Instead, he suddenly found himself in the midst of a war zone: Three men armed with suicide vests, guns and explosives stormed the transit hub and unleashed a wave of carnage that resulted in 44 deaths and over 144 injuries. 
"Heard shots and ran fast towards her. Came down the stairs to find the court empty and the terrorist firing towards us," Nabil tweeted.
"We then took cover in a closet inside a hair salon. The 45 minutes we were sitting ducks waiting to find out who will open the door. When the bullets were close I hugged and kissed her."
Though Nabil said his wife was injured in the attack, both were fortunate enough to escape with their lives.
Officials have since identified the three attackers as men from Russia, Uzbekistan and Kyrgyzstan who entered Turkey from Raqqa, an ISIS stronghold, last month.
Though the Islamic State has yet to claim responsibility for the attack, Turkish officials told CNN that they found "strong evidence" that ISIS leadership was involved in its planning.
Nabil's full account, including a video of the aftermath of the violence, can be seen below:
Read more: