Illinois Gun Shop Holding Raffle to Support Orlando Victims — the Prize Is an AR-15 Rifle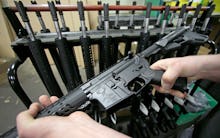 To support the victims of the Orlando mass shooting, the Second Amendment Sports gun shop in McHenry, Illinois, has decided to host a controversial raffle, with the grand prize being an AR-15 rifle. 
The store owners insist that there's no politically charged motive behind their raffle and noted that the AR-15 was selected simply because it's one of their most popular products. 
The AR-15 is similar to the military-grade Sig Sauer MCX semi-automatic rifle that was used by Omar Mateen when he opened fire in the Pulse nightclub in Orlando, Florida on June 12. The massacre left 49 innocent people dead and 53 wounded. 
"I understand that there are different opinions out there," Vic Santi, the store's marketing director, said, according to the Chicago Tribune. "We don't look at this as a gun issue. We look at this as a terrorism issue."
But others disagree, calling the raffle offensive and inappropriate, especially as mass shootings are reaching epidemic levels. "Guns are not toys," Kathleen Larimer, whose son was killed in the 2012 mass shooting in Aurora, Colorado, said. "They should be taken seriously. I'm not saying they should be illegal, but raffling off a gun is not taking its killing power seriously."
To enter the raffle, someone buys a $5 ticket; the winner will be announced at the end of July and needs to fill out a federal form and obtain a firearm owner's ID card to get the gun. The store owners said they will also donate $2,000 more to the nonprofit OneOrlando Fund. 
"We're looking to support the victims, the families and the survivors of this act," Bert Irslinger Jr., one of the owners of the store, said, according to WGNTV. "How we do that, is in our own way."
Read more: