Iowa Woman Attacks Black Reporter and Shouts N-Word on Live News Broadcast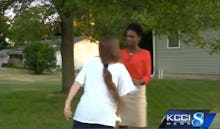 A white woman pushed and screamed racial slurs at a black TV reporter on a live news broadcast in Boone, Iowa, on Tuesday. 
According to KCCI video footage, Emmy Victor — a news reporter for the station — was covering a fatal police shooting when the woman charged at her and started shouting, "Get the f*ck out of here, you stupid f*cking [n-word]!" The police identified the woman featured in the video as the mother of Michael Disbrowe, who was killed in a police shooting, according to another KCCI report.
Victor backed up and calmly said, "Don't ever." The woman then rushed back to Victor, pointed her finger at her face, and appeared to push her while hurling more obscenities. 
"Don't you ever f*cking tell me! I f*cking told you he was f*cking dead!" the woman yelled. "Don't stand there and tell me you don't f*cking know!"
The woman then turned to the video journalist, Zach Hayes, telling him to "get the f*ck out of here" before knocking his tripod to the ground. 
When Victor and Hayes told the woman to leave and that they would be calling the police, the woman continued to shout obscenities, saying that they should leave instead. She also taunted them to call the police and said to tell the authorities to shoot her.
"They gonna shoot me, too? Come on, right here. Tell them to come f*cking shoot me!"
Disbrowe, who was 28 years old, reportedly threatened people with a gun in his mobile home neighborhood. When police arrived at his home, he allegedly pulled a gun out of his waistband and refused their numerous demands to drop the weapon. The police opened fire when he reportedly aimed the gun and came at them.
Disbrowe, who was transported to a nearby hospital, later died from his injuries. 
In adherence to Boone Police Department's policy, the police officers involved in the shooting are placed on paid administrative leave until an investigation is completed.
You can watch video footage of the Iowa woman attacking the reporter here: