Rihanna's "Sledgehammer" Music Video Is on YouTube Even Though It's From Outer Space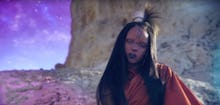 Rihanna's new music video for "Sledgehammer," the single she recorded for the upcoming Star Trek Beyond, is a departure in every sense of the word.
The Floria Sigismondi-directed video trades in money-throwing, gun-toting, weed-smoking, bad-gal behavior for imagery that's decidedly more extraterrestrial. 
We were admittedly expecting something a lot like this:
But instead, we really just got a whole lot of Rihanna doing this weird thing she loves to do with her hands:
There's also this totally chill and cool and definitely normal scene of RiRi morphing into some kind of intergalactic life force:
Rihanna has been riding an otherworldly wave since the release of her eighth studio album, Anti, releasing a batch of summer anthems including "Sledgehammer" and "This Is What You Came For" with Calvin Harris. Her Anti World Tour has made headlines and she's signed a lucrative business deal to launch a diverse makeup line.
The limelight seems to love RiRi, and find her even while she's exploring new planets.
Watch all the weirdness unfold below:
Read more: