Justin Bieber Tweets the #OrlandoStrong Pulse Massacre Hashtag to Promote Purpose Tour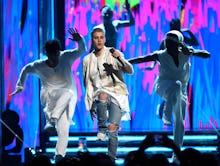 Baby, baby, baby, no: On Thursday morning, Justin Bieber promoted his Purpose World Tour show in Orlando, Florida, on Twitter using the hashtag #OrlandoStrong. 
For some of you, that hashtag may seem innocuous enough, but many will recognize it as the solidarity hashtag that trended in the wake of the tragic Pulse nightclub shooting that left 49 victims dead and dozens more wounded, most of them Latino people who are part of LGBTQ communities.
Justin Bieber's tweet read, seemingly innocently enough, "Up next.... #OrlandoStrong #PurposeTour."
It was preceded just one minute earlier by a tweet promoting Bieber's Purpose World Tour pop up merchandise shop in Miami. 
Before Justin Bieber took over the space, the #OrlandoStrong hashtag was used to promote awareness of and raise funds for the survivors of the horrific massacre at Pulse, which happened during the early morning hours of June 12. 
But ever since Justin Bieber's tweet, the #OrlandoStrong hashtag has since been co-opted by Beliebers expressing their excitement for the concert on Thursday evening:
Although some of his fans did note that they were happy that Justin Bieber was still performing in the city of Orlando, and that he should do something special for the victims at his concert:
The deadly event, in which a shooter opened fire on clubgoers, was seen by many as a direct attack on LGBTQ communities. Unlike many celebrities, Bieber hasn't spoken publicly about the attack. 
Bieber is scheduled to perform at Orlando's Amway Center Thursday night. He had previously used the hashtag once before to "stand with Orlando in support."
Read more