Franchesca Ramsey Proves Racism Isn't Just a Southern Thing With Horrifying Examples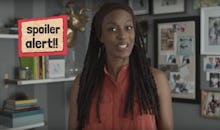 MTV's Franchesca Ramsey just called out northern states hard with underrated yet horrifying examples of racism.
"Sundown towns," which sprung up across the United States between 1890 and 1930 in states including Iowa and Minnesota, warned black people they'd be killed if they were caught there past sundown — with signs that read "N-word. Don't let the sun go down on you."
And Oregon, now most famous for it's "quirky, avant-garde culture," was the only state in the late 19th century to outwardly prohibit black people from living, working or owning property there — and it was a major hub for the Ku Klux Klan.
Watch the full video below:
Read more: