This Artist's "Make America Native Again" Hats Are the Perfect "F*ck You" to Donald Trump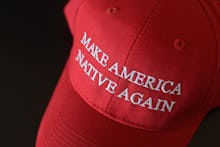 Navajo artist Vanessa Bowen is sending a message to presumptive Republican nominee Donald Trump with her hats — which are embroidered with a slight twist on Trump's famous slogan. Instead of "Make America Great Again," Bowen's caps say "Make America Native Again." Boom.
"When Donald Trump says, 'Make America Great Again,' what time period is he talking about?" Bowen told ABC News. "A lot of people overlook that America's history has been built upon injustice against other racial groups, including Native American people."
Bowen sees Trump's entire campaign as "attacking" traditionally Native values, she told ABC News. To her, making America native again means "going back to learning sustainability and learning to live in harmony with the environment. ... It means going back to a matriarchal society in which we value and respect our women. It means going back to a sense of unity and community in which we nurture and care for each other rather than tear apart and divide each other."
Bowen is not the only person using Trump's own slogan to criticize his campaign — clothing retailer American Apparel recently rolled out its "Make America Gay Again" collection and designer Andy Simmonds created a pink and white "Make America Femme Again" hat.
Bowen is selling her "Make America Native Again" hats on her website for $30. She told ABC News that she hopes that her slogan, and her pointed critique of Trump, will "spread more awareness about Native Americans and encourage more natives to write and tell our own stories so more people can know the truth and don't have to rely on these false stereotypes."
Read more: