Want to Buy the OnePlus 3? Brexit May Be Bad News for You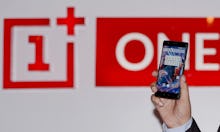 Brexit, the British vote to leave the European Union, crushed the U.K.'s libido — and now it may crush the dreams of hopeful OnePlus 3 owners.
The OnePlus 3 — a flagship smartphone hyped for its affordability compared to high-end Apple and Samsung phones — may become a little less affordable. And the company is blaming Brexit. 
"OnePlus is a global company with fans across the world," the company wrote in a blog post on Wednesday. "The U.K. is one of the most important markets for OnePlus. So given the uncertainty following the unexpected Brexit developments, we wanted to explain how this might affect our business in the near future."
The company may be driving up the price of the OnePlus 3.
"We've always strived to create the best product and deliver them to customers at a reasonable price," the blog post added. "However, the worrying downward trend of the GBP may make it difficult to maintain our current pricing structure in the U.K. Our margins have always been thin, and our expenses are mainly in USD. This being the case, sudden drops such as the one that the pound has recently experienced could have a direct impact on our prices." 
In the wake of Brexit, the pound plummeted to record lows — a "roughly 30-year low" as of Tuesday, MarketWatch reported. 
The OnePlus 3's price hasn't raised — yet. But the company recommends buying the flagship phone "sooner rather than later" — it's to be determined whether the company is trying to instill fear as a sales tactic or really knows the price hike is only a matter of time. 
OnePlus has increased the price of its phone once before, when the Euro hit a low in early 2015. 
As for the potential price increase of the OnePlus 3, the company said in the blog post it will "be sure" to give you "several days of notice." 
Think fast.
Read more:
June 30, 2016, 12:42 p.m. Eastern: This story has been updated.