Taylor Swift's "Trouble" Gets the Justin Bieber Treatment, and It's Cute as Hell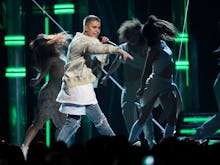 A cute lil video of Justin Bieber performing an acoustic cover of Taylor Swift's "Trouble" has surfaced online, and honestly, it's pretty damn adorable.
The clip was shared to Snapchat by Martijn Gerard Garritsen, aka Martin Garrix, Bieber's EDM buddy and duet partner. 
Despite being just 10 seconds long, the stripped-down performance is a definitive reminder that Bieber — who has been the subject of many a controversy over the course of the past few years — has a serious set of pipes on him.
Especially in light of said controversies, it's worth noting that Bieber looks absolutely mellow in the clip, rocking a Hawaiian shirt, cutoff denim shorts and closely cropped haircut like he's Jack freaking Johnson or something. 
Kudos to the mellow, guitar-wielding Justin Bieber that sings about "Trouble" instead of causing it wherever he roams.
Read more: