This Australian Woman Is Going Viral on Reddit for Donating a Kidney to Her Boyfriend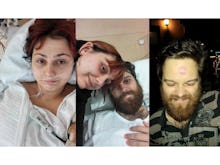 Last Friday, 28-year-old Rebecca Robinson in Sydney went under the knife to give her boyfriend Tristan Reid the ultimate gift: her kidney. 
Earlier this week, Robinson posted a post-surgery picture on Reddit and it quickly went viral, with dozens of people sharing their own experiences with live kidney donation and romance in the face of health struggles. 
According to the National Kidney Foundation, there are more than 100,000 Americans waiting for life-saving kidney transplants. The average wait time is more than three and a half years. 
Living donor kidneys, aka organs donated by someone who's still alive rather than from an anonymous deceased donor, last longer and provide better health benefits to the recipient. According to the National Kidney Registry, around 5,000 Americans become living donors every year. 
Robinson said that she and Reid — who is still in the hospital and could not be reached for comment — had been dating for only a year before she decided to give him her kidney. 
"He has IgA nephropathy [a.k.a. Berger's disease], which caused kidney failure about two years ago," she said in a Skype interview. "He let me know [about his condition] on the second date. I have a very close friend with kidney failure, so I was familiar with it." 
During the early months of their courtship, Robinson witnessed Reid undergo periods of depression exacerbated by his failing health. But through it all, she felt he was still supportive of her in her own times of need, especially as she struggled with her own anxiety. 
"He just hugged me and listened and was so perfectly there for me," Robinson recalled. "All his friends and family say he's in better shape than he has been for years, and I know I am as well."
Reid and Robinson moved in together earlier this year. Up to that point, Reid had no idea his girlfriend was planning to give him her kidney. 
"I initially decided to look into it properly when I realized I loved him," Robinson said. "I did a bunch of online research, and was on holiday by myself for 5 weeks overseas, and took that solo time to consider it properly and get a bit of breathing room...we moved in together and I told him I'd decided I wanted to be tested for donation." 
It took months of medical tests before they could set a surgery date.
Although Robinson would love to continue her relationship with Reid, they've both been clear that her donating her kidney does not signify a lifelong commitment. 
"Nothing lasts forever and we will likely separate at some point," Robinson said. "But I've still given something that basically saves a life, and that's not something to regret....the bond it makes is bigger and stronger than the temporary [health] dip. It really does bring you together beautifully."
Read more: