What Bayna El-Amin's Assault Case Says About Racism in the LGBTQ Community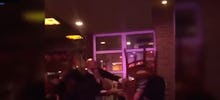 In May 2015, shocking video footage went viral of a black man smashing a chair over a white man's head at a Dallas BBQ restaurant in Manhattan. Jonathan Snipes, the white man, claimed he was attacked because he was gay. He'd been spending a night out with his boyfriend at the time.
News outlets and outraged advocates quickly piled on the story, pushing the narrative that this was a "gay bashing" and that the black perpetrator, Bayna-Lehkiem El-Amin, was a violent homophobe. But over the year that followed, a more complex story emerged — and revealed some ugly truths about racism in the LGBTQ community.
Snipes was leaving the BBQ restaurant the night of May 5 when he accidentally knocked over a glass from a neighboring table, he told DNAInfo the day after the assault. Someone at that table — where El-Amin was also sitting — allegedly called Snipes and his boyfriend "white faggots" and derided them for "spilling [their] drinks."
Snipes said he approached the men and confronted them about the comments.
"What did you say about us?" he reportedly asked. That's when El-Amin, according to Snipes, knocked Snipes to the ground and started kicking him in the face, shouting, "Take that, faggot."
The viral video posted to YouTube by onlooker Isaam Sharef — which has since been made private, but can be viewed in part here — does not include what came before the altercation, or much at all besides the devastating blows. But the reason for the attack seemed clear to Snipes at the time.
"[El-Amin] attacked us specifically because [he] knew we weren't [his] type of people," he told DNAinfo, presumably referring to him and his boyfriend being gay.
In the end, it was enough for a criminal conviction: On May 25, after a week-long trial, El-Amin was found guilty of first and second degree assault. He now faces up to 15 years in prison. His sentencing is expected to come in the next few weeks.
Snipes' version of this story is simple and familiar: A large, aggressive, straight black man suddenly attacks a random gay person in a homophobic rage. It's a narrative that plays into widespread myths of pathological black homophobia, the debunked belief that black communities are more anti-gay than most.
In any case, the incident triggered the type of prompt justice that might not have been possible for gay people in years past. In the late 1970s, one could murder a high-profile gay city supervisor like Harvey Milk and receive a relative slap on the wrist. In contrast, the NYPD's Hate Crime Task Force was investigating the Snipes assault as a possible bias attack. New York State Sen. Brad Hoylman and Councilman Corey Johnson, both Democrats, organized a street rally against LGBTQ hate crimes amid the uproar. The LGBTQ community, it appeared, had come a long way from uprising against the police during the 1969 Stonewall Riots.
But in the time between the attack, the trial and the conviction, it quietly came to light that El-Amin was also a part of the LGBTQ community.
"My client has been a leader in the [LGBTQ] community for 20 years," El-Amin's attorney Percy Gayanilo said in a phone interview. Hate crime charges were quickly dismissed, but Gayanilo says the jury may have already "been biased because El-Amin was vilified in public" as a homophobe.
"I believe [race was] a factor — race and class and maybe even religion." — Percy Gayanilo
Indeed, the perception that El-Amin hated gay people haunted him throughout the entire legal process. Even when the full video of the incident was made public — and supported El-Amin's claim that Snipes attacked him first — prosecutors argued El-Amin's attack could not be self-defense. The reason? The attack was motivated by El-Amin's unwillingness "to let these girly men get the last word," according to ADA Leah Saxtein. Even if he got hit first, El-Amin was filled with hate and therefore unjustified.
The media didn't treat El-Amin much better than the prosecution. A report on the ruling against El-Amin from the New York Daily News failed to mention Snipes' initial aggression, or El-Amin's connection to the LGBTQ community at all. It did, however, focus on his imposing physicality: El-Amin's 6'6", 300+ pound frame was central to most news stories about him at the time, and the Daily News referred to him as a "hulking brute" — a term that connotes the kind of innate physical danger so often used to criminalize black men.
Snipes, on the other hand, was treated differently in regard to his relationship to the LGBTQ community. For Snipes, being LGBTQ meant immediate and widespread support, and outrage on his behalf. El-Amin, on the other hand, was actively pitted against LGBTQ people. And when the larger LGBTQ community wasn't joining the fray to frame him as an enemy, many were willfully complicit by neglecting to correct the record or join in his defense.
Some Twitter users were quick to point out the double standard:
A number of LGBTQ organizers also created a Change.org petition urging the judge in El-Amin's case to be lenient during sentencing, citing the dangers facing queer black men in society and in America's jails and prisons.
"[Prison] can be an incredibly dangerous place for a gay man," the petition reads in part. "We ask that you utilize your power to have mercy on Mr. El-Amin and ensure he returns to the community safely and as soon as possible."
He has a point: Racism and other biases have been difficult topics for many in the LGBTQ community to confront. A large swath of white queer people, for instance, have resisted or avoided acknowledging the racial components of this month's nightmare in Orlando, Florida, where an Arab-American Muslim man slaughtered 49 mostly Latino and black people at a gay club. Some have treated being LGBTQ as though it were a mutually exclusive category from being a person of color.
"I believe [race was] a factor – race and class and maybe even religion," El-Amin's attorney, Gayanilo, said of his client's conviction. "There is a lot of anti-Muslim sentiment in this country."
But racism in the response to Orlando and El-Amin's case do not exist in a vacuum. There are plenty of examples where LGBTQ rights have failed to account for the black, brown, Hispanic, Asian or indigenous members of our community.
We live in an age when Caitlyn Jenner, a white Republican, is arguably the most recognized transgender person in America. Meanwhile, transgender women of color are being murdered at epidemic rates and barely receive any attention.
It's an age where work to fight HIV frequently revolves around a miracle drug that prevents the disease, while HIV rates in black gay male communities — which disproportionately lack access to medication and healthcare in the first place — has gone so unmitigated over decades that 50% are expected to contract the virus in their lifetime all the same.
It's an age when Michael Johnson, a black gay man with a learning disability, can be convicted to 30 years in prison based on unproven accusations that he spread HIV to white men.
By these standards, marriage equality can be framed as a hard-fought victory, while problems like black LGBTQ homelessness barely get a whisper. There is no denying progress has been made for the LGBTQ community over the last half century. But what does that progress mean for people like Johnson or El-Amin? When protecting one gay man means throwing another under the bus, can we truly claim progress is treating all of us equally?
At the end of the day, such progress must be measured by how well we treat the blackest and poorest among us — not how much better we treat ourselves than them. The El-Amin story is complicated, of course. Seeing a chair used to attack another person was undeniably jarring, and arguably wrong in any context. But positioning a man against his own community in the name of progress is wrong too. Starting a movement against bias without considering one's own prejudices is reprehensible. Leaving gay people of color behind for the sake of white gay communities is deplorable.
The larger LGBTQ movement has left so many behind already, and true justice cannot be achieved until we turn back for them. So far, however, it seems this movement only knows how to move forward.
Senator Hoylman and Councilman Johnson did not respond to request for comment.