The Beginner's Guide to Traveling Europe This Summer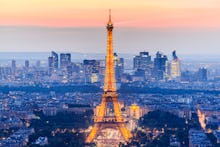 Europe. It can be a daunting undertaking. How do you begin to tackle a continent with such an expanse of rich, disparate cultures? 
Well, we've got you covered. We've mapped out a 12-stop, circuit tour of Europe, starting in Dublin and ending in Paris. If you have the time, money and inclination, this should give you a comprehensive taste of the continent — from quintessential, stereotypically romantic Western European cities to post-Soviet, underrated, outrageously fun Eastern European cities. 
There are a few options for getting around. You can fly around, secure a Eurorail pass and train hop at no extra cost, control your schedule by renting a car or some combination thereof. 
1. Dublin
The capital of Ireland is as beautiful as it is quirky. It's a port city, curling around Dublin Bay, which is, in part, what makes it so picturesque. There is something for everyone in this city, whether it's soaking in the Old Jameson Distillery or Guinness Storehouse or visiting its multifarious museums. 
And, if you're so inclined, check out the city's most famous penitentiary, Kilmainham Gaol. Having housed rebels, militant and dissidents over hundreds of years, the jail offers an extensive history of the country, dating back to the mid-18th century. The Chester Beatty Library is another popular attraction worth a visit — and it's free. Another free and particularly beautiful activity involves exploring the stunning grounds of Trinity College Dublin (Oscar Wilde's alma mater), founded in the late 16th century. 
2. London and Oxford, England
You can't very well go to Europe without making time for Big Ben. The clock tower — part of the Palace of Westminster, which is also home to the House of Parliament and House of Lords — is one of the continent's better known landmarks. The city offers trendy pubs, world class theater and breathtaking architecture, among a plethora of other attractions. One of the best (and lesser-known) views of London might be tucked away in a café on top of the National Gallery.
An easy 60- to 90-minute bus ride will take you to Oxford. The bus service offers WiFi — so you can finally FaceTime your parents — and is also 24 hours (unlike most things in the United Kingdom), so you can go for a day trip. If London offers breathtaking architecture, Oxford will truly bowl you over. The oldest of renowned Oxford University's colleges were established in the mid-13th century, making the city's aesthetic almost other-worldly. And it's a perfect pitstop for Potterheads, as some of Hogwarts' most famous scenes were shot in the university's colleges. 
Most importantly, you can have a tipple at the Turf Tavern, where President Bill Clinton allegedly smoked a joint — but did not inhale — during his student days at Oxford.
3. Amsterdam
The capital of the Netherlands, in many ways, has an identity unlike other major European cities. The city is a maze of canals comparable to Venice, Italy — but it actually has more than four times as many bridges (1,753) as Venice does. And Amsterdam is known for exceptional, world-class museums like the Van Gogh Museum, the Stedelijk or the Rijksmuseum. 
On the other hand, it's also known for its underbelly, with a world-famous Red Light District and equally famous cannabis coffee shops. 
So whether it's art you're looking for — or live sex shows — this city has it all. 
4. Berlin
Germany's capital and cultural epicenter is where East meets West: It was literally split between communist East Berlin and democratic West Berlin by a wall after World War II and stayed split for almost 50 years until reunification in 1990. The vastly different political and social trajectories of the same city over the course of nearly half a century has created an interesting texture to the place. "Largely owing to World War II, Berlin's architecture has a fascinating range, from the historical to high modernism and more controversial postmodern projects," Time Out reported. 
It has a reputation for being vibrant and vivacious. Visitors can dine at establishments like Fame, which the New York Times described as "a restaurant inside a repurposed railroad storage facility." You can dance your worries away at Boo Hoo, which Time Out called a "queer-leaning night [which] is cheap and just the right kind of tacky, and rounds up a mixed, open-minded, drama-free crowd."
Then there's the DDR Museum, an interactive, curated space that lets you experience what it was like to live in East Berlin, down to the kinds of cars they drove. The Reichstag, a giant glass dome structure which houses German parliament, offers a great view of this city from the top and it's open to the public. You're welcome. 
5. Prague
Walk into Stare Mesto — or the "Old Town" — and you'll feel like you've leapt into the pages of an antique children's book — the spires, the towers, the fantastical clock faces, the designs embedded in the cobbled streets. 
The capital of the Czech Republic is a patchwork of architecture quintessential of different eras, from Gothic to Baroque to Art Nouveau. The country is known for its beer, as it's geographically situated in an ideal climate for harvesting hops — Pilsner Urquell, anyone? — as it is; Czechs have been perfecting the craft for over a thousand years, so you better arrive thirsty. 
Prague is an innovative city, having had to reinvent itself a number of times. Most recently, this happened in 1989 (when it was Czechoslovakia), after gaining independence from the Soviet Union, and then again in 1993, when the country split, forming two sovereign states, Slovakia and the Czech Republic. 
Nightlife includes the likes of Cross Club, with an industrial "interior, an absolute must-see jumble of gadgets, shafts, cranks and pipes, many of which move and pulsate with light to the music," according to Lonely Planet.
6. Krakow, Poland
Perhaps one of Europe's more underrated and underappreciated cities is Krakow in southern Poland. A perfect place for foodies and café lovers, Krakow boasts a host of sights (including the notable Wieliczka Salt Mine) and has cultivated a reputation for being a party city, a subterranean dimension of Krakow that is literally underground. 
"Most of the cellars were once ground floors, yet due to the repeated rebuilding of houses after fires, and the constant laying of new roads, they eventually disappeared beneath the earth's surface," Urban Travel Blog's Nick Hodge wrote. "Entrepreneurs have resurrected the spaces as bars, galleries and even swimming pools in the case of a few swish hotels."
Krakow is also known for four manmade mounds, composed of soil taken from across the country, commemorating its great leaders. The most famous of these is the Ko?ciuszko Mound, which has a path spiraling around the periphery, culminating at the apex, with an impressive vantage point.
7. Budapest, Hungary
Hungary capital has no shortage of symbolically monolithic landmarks: Matthias Church, Chain Bridge, Parliament, St. Stephen's Basilica, Castle Hill. The Budapest Opera House is worth checking out, even if you're not a big fan of the art form; the space has acquired a worldwide reputation for good reason. 
And if a few hours of operatic singing stresses you out, shake it off at the Széchenyi Baths, open air and enclosed hot baths where it's not uncommon to find mixed gender chess games on boards that float. Admit it — it's on your bucket list.
8. Athens + a random Greek island of your choosing, Greece
The Acropolis, the Parthenon, the Temple of Hephaestus. Athens, the capital of Greece, is home to some of the most familiar and iconic structures in Western civilization. After you've tired yourself out from a touristic expedition to the Acropolis, you can make your way down to Plaka, a beautiful residential area located right below the citadel known for its cafés and restaurants and for just generally being nice to look at.
If time and funds permit, it's definitely worth popping over to one (or a few) or Greece's 6,000 islands. There are, of course, more high profile islands like Santorini, but the beauty of Greece is that total isolation — the best kind — is always within reach. Think Anti Paxos, with a population that has been know to dip as low as 30. Chania in Crete also offers a quintessential Greek experience, with small, winding streets and excellent food. Having been occupied by Minoans, Arabs and Ottomans before becoming absorbed by Greece, the Island has a rich tapestry of architecture and culture. 
9. Rome
There's a little-known destination called the Colosseum where you may want to start. It's been a fixture in Italy's capital city since 80 A.D. (yes, that's a two-digit century). Then, of course, explore the Pantheon and the Vatican (hello, Sistine Chapel) and the Arcibasilica di San Giovanni in Laterano — one awe-inspiring structure and bedazzling fresco after another. 
Stuff your face with delectable pizza and gelato as you go, perhaps at one of the many spots in proximity to the must-see Trevi Fountain or Piazza Navona. There is also no shortage of chic galleries or boutique hotels to slink into, the latter of which might be the perfect spot for an aperitif. 
10. Arezzo/San Gimignano, Italy
Rent a car and, in a roughly two-hour drive due north of Rome, you can find yourself in blissful Arezzo, a small city under the Tuscan sun. The centuries-old practice of gold-smithery has made it a wealthy city. Look no further than the detail of local monuments like the Church of San Francesco for evidence.
Another 90-minute drive from Arezzo will land you in San Gamignano, a famous, tiny walled medieval city atop a hill, and has become a UNESCO World Heritage Site, in part for its 14th and 15th century art. Wandering through this ancient town literally provides a portal into the past. 
11. Barcelona, Spain
Barça, as it's affectionately called, is one of the most relaxed of the cities listed here. The seaside town is the capital of Catalonian region. 
You can start with Park Güell, designed by renowned modernist architect Antoni Gaudí, whose work pushes the parameters of whimsy. His designs are the stuff of your shroom-iest fantasies. See more of Gaudí at his finest at Sagrada Família, the city's temple. Barri Gòtic — or the Gothic Quarter — is a must, and can be absorbed simply by allotting a few hours to roam through its streets and alleys. 
Barcelona is also the a city of scooters (and fashionable scooter drivers), so it's worth looking into renting one. Lastly, if there's one place you should stop to eat, it's Cuitat Comtal. You will feast upon some of the best tapas of your life. 
12. Paris
The Parisian portion of this guide might be more useful were it a list of things not worth doing in the City of Light. The Eiffel Tower and Louvre were both no doubt on your mind before you started reading this. Relais de l'Entrecôte Saint-Germain would be a good place to stop for a steak after an exhausting traversal of the Louvre complex. 
The Musee d'Orsay, Notre Dame, Luxembourg Gardens and Arc de Triomphe also rank among the requisite attractions too. Musee Rodin, showcasing sculptor Auguste Rodin's work in perfectly manicured gardens and rocaille buildings, is also an option.
Stroll by the River Seine, walk across some of the city's many famous bridges, explore romantic and artistic Montmartre (which offers great views of the city given it's one of the higher parts of Paris), just explore. And if you're in the mood to feel "hip and grungy," check out the 11th arrondissement, or Oberkampf, for some quality and authentic nightlife. It's also a great neighborhood to consider staying in, given it's pretty cost effective and safe. 
Read more: