Colorado Movie Theater Wants 'Dark Night' Shooting Victims to Pay $700K in Legal Fees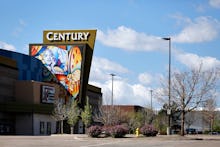 On Wednesday, a federal court ruled Cinemark, a movie theater franchise, was not liable for the 2012 mass shooting that took place at the chain's Aurora, Colorado, location. The massacre, which took place when James Holmes opened fire during the midnight premiere of The Dark Knight Rises, resulted in the deaths of 12 and the injury of over 58. 
Now, after winning the case, Cinemark is looking for someone to foot the bill for its legal fees. According to Deadline, last week, the chain filed paperwork asking none other but the victims and the victims' family members to chip in to pay off the nearly $700,000.
The outlet reported that Colorado law allows the "winning side in a civil case to seek costs." 
But just because you legally can do something, doesn't mean you should. 
Deadline speculated that, since the plaintiffs' lawyer Marc Bern said there will likely be an appeal to Wednesday's court decision, the move to charge victims and their families could be a strategy meant to block such an appeal. 
According to an earlier Deadline article, Cinemark's lawyers argued in an October hearing, "It would be patently unfair, and legally unsound, to impose on Cinemark, a private business in the entertainment industry, the duty and burden to have foreseen and prevented the criminal equivalent of a meteor falling from the sky."
Read more: