Pentagon Lifts Ban on Transgender Troops Serving in the U.S. Military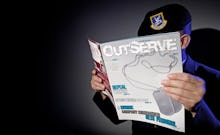 On Thursday, Secretary of Defense Ashton B. Carter announced in a White House press conference that the Pentagon will lift the ban on openly transgender people serving in the military. 
"We're eliminating policies that can result in transgender service members being treated differently from their peers based solely upon their gender identity rather than their ability to serve," Carter said Thursday. "And we're confirming that, going forward, we will apply the same general principles, standards and procedures to transgender service members as we do to all service members. 
A livestream of Carter's remarks ran on the Defense Department website.
According to RAND, a think tank Carter ordered to study policies impacting transgender service members, there are currently at least 2,500 transgender service members out of the 1.3 million active duty members. RAND also estimates there are another 1,500 transgender members in roughly 825,000 reserve troops. Those estimates could be closer to 7,000 and 4,000 trans service members respectively, the organization reports, though Carter noted Thursday there isn't adequate research yet to confirm those totals.
The RAND study pointed out several major issues transgender military members currently face. "Right now, most of our transgender service members must go outside the military medical system in order to obtain medical care that is judged by doctors to be necessary, and they have to pay for it out of their own pockets," Carter said. "This is inconsistent with our promise to all our troops that we will take care of them and pay for necessary medical treatment." The ban was lifted effective immediately. 
However, Carter announced there would be some regulation surrounding transgender service members. A transgender person hoping to join the service must be "stable" in their gender identity for at least 18 months, a fact that must be supported by a doctor, Carter said.