House Speaker Paul Ryan Will Allow Vote on Preventing Gun Sales to Terror Suspects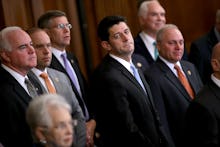 House Speaker Paul Ryan will allow a vote in the next week on legislation intended to keep guns out of the hands of people on the anti-terror no-fly list, according to multiple reports Thursday.
Ryan announced the plan in a conference call with other Republican lawmakers, Reuters reported.
The Wisconsin Republican's move comes after a dramatic round-the-clock sit-in by Congressional Democrats enraged at a lack of action on gun regulation in the wake of the murder of 49 people at a gay nightclub in Florida earlier this month.
Ryan initially called that demonstration "nothing more than a publicity stunt."
Legislation that would have addressed gun purchases by people on no-fly lists has been championed by people like former Arizona Rep. Gabrielle Giffords, the victim of a 2011 assassination attempt, and her husband, astronaut Mark Kelly.
Polling shows such restrictions have strong support — even among Republicans — but have been opposed by the National Rifle Association on the grounds that limits could infringe on Second Amendment rights.
Following the massacre at Pulse nightclub in Orlando, Sen. Chris Murphy, a Connecticut Democrat, led a 15-hour filibuster to force his chamber to take action on firearms. The measures did not survive Senate procedural votes.
Ryan, per Bloomberg News, told Republicans on the call that the package of counterterrorism bills that would come before the House would also include "provisions to disrupt radicalization and recruitment" and legislation meant to "prevent gun violence by identifying and treating serious mental illness in would-be perpetrators."
Read more: