Ruby Rose Wrote an Instagram Post About Love That May or May Not Be About Taylor Swift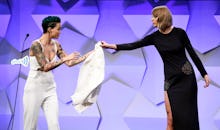 Every rose has its thorn. Ruby Rose, however, has a wise new Instagram post chock full of relationship advice. 
In the post, the Orange Is the New Black star writes about how "love in the public eye" can present a set of unique challenges for celebrities who date each other, and the whole thing seems like maybe it's a low-key defense of Hiddleswift.
Here's what she had to say in the caption, which is what really matters:
If a woman moves on from a relationship eight months (or two weeks) after a breakup, isn't that beautiful? That someone can still continue to open their hearts to people despite times in their lives I'm sure it's been broken. It's not an insult to every ex they have ever had... new love never erases old love. It's a separate thing, a new entity.
Given that the elapsed time between Taylor Swift's breakup with Calvin Harris and photos of her and Tom Hiddleston hitting the internet was pretty much exactly two weeks, it's understandable why people are jumping to the conclusion that Rose's post had Swiftian undertones.
But Rose insisted on Twitter that she was just making a general statement and sharing some thoughts about how we should never judge other people's relationships — which is less juicy and exciting, but a cute sentiment nonetheless!
Read more: