This 'Game of Thrones'/'Star Wars' Mashup Is Strong With the Force and the Lord of Light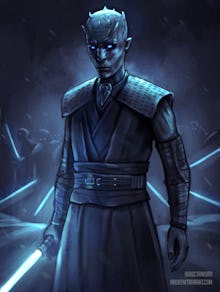 Game of Thrones and Star Wars are science-fiction cultural phenomenons, but they don't have that much in common. Luke Skywalker and Princess Leia's sibling kiss has nothing on Cersei and Jaime Lannister's twincest, and Star Wars won't brutally murder all of your favorite protagonists, for starters. Still, combining the two, as it turns out, is an exciting mashup of iconic characters. 
Canadian artist Andrew Dat Tran has shared a new collection to his personal website, Instagram and Imgur, called "Game of Star Wars." The concept for the six illustrations is pretty straightforward: Thrust Game of Thrones characters into the Star Wars universe. 
The results are visually stunning, and there are certainly some commonalities between the individual characters — Darth Maul and the Night's King are both ominously silent villains, and Tyrion Lannister can talk his way out of any situation, just like the infamous Corellian smuggler, Han Solo. 
You can check out Tran's full Game of Thrones/Star Wars mashup below: 
Read more: