This New York Times Style Piece Takes a Sexist Jab at "Mom Hair" — Dad Bods Still A-OK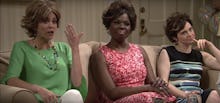 Last week, the New York Times ran a Fashion & Style piece presenting a simple problem titled "Mom Hair: It Exists. What to Do About It."
"You've likely seen it at suburban malls: the longer-in-back, slightly-shorter-in-front bob that should read sleek but is inescapably frumpy," writes columnist Bee Shapiro. 
She adds that even the impossibly cool Soul-Cycling, matcha-drinking TriBeCa mom is vulnerable to this style faux pas. "Perhaps she has added her own twists like blunt bangs or extra layering, but the 'do still falls short of flattering," she writes.
Shapiro talks to hairstylists who propose some straightforward solutions. Change up the color to give "mom hair" renewed vibrance. Moms who don't have time for regular salon appointments might try out an ombré dye job that'll grow out nicely. Moms who want the "teenage feeling of irresponsibility and youthfulness" back can opt for a slightly-too-short bang. 
Though Shapiro admits #NotAllMomBobs warrant an emergency trip to the salon, the decisive message of the Times piece is that moms are frumpy; Moms need help. 
And she's not entirely incorrect. Sometimes, moms do need help: Many mothers often sacrifice self-care for work or family and need a push to do something for themselves. But when it comes to style, it's remarkable that while "mom" identifies all that is frumpy and out-of-date in the fashion world, "dad" is having an aesthetic renaissance.
It's remarkable that while "mom" identifies all that is frumpy and out-of-date in the fashion world, "dad" is having an aesthetic renaissance.
Mic pointed out a similar double standard when "dad bods" — the body that looks like it drinks too much beer and polishes off his kids' leftovers nightly — soared in popularity last year. 
"Enthusiastically embracing the dad bod is giving men a pass that women simply do not get," pointed out writer Ellie Krupnick at the time. An equivalent "mom bod" exists, but it goes by "post-baby body" — a term wielded as an insult, not a compliment. (Unless, of course, she immediately "recovers" from it — and then she is celebrated.)
Dad style is also flourishing amid the enduring normcore, wherein hipsters adopt a distinct brand of non-fashion, giving Levi original-fit jeans, stark white socks and New Balance sneakers a second life. Even the likes of A$AP Rocky, Harry Styles, Wiz Khalifa and Kanye West are dipping their toes into the look GQ deems "actually cool."
A search for "dad style" will yield of slew of articles glorifying the intentionally unremarkable style. The top result for "mom style" is a Redbook article called "Fixes for Common 'Mom Style' Problems."
In her Times column, Shapiro even makes a subtle dig at "mom jeans," calling them the "mom hair" counterpart, a baffling comparison considering moms jeans may be one of the true exceptions to the sexist mom vs. dad style paradigm.
InStyle praised Kendall Jenner's mom jeans in September, writing that the model made them look "unbelievably cool." Though InStyle seemed surprised that the high-waisted light-wash cropped pant could ever be stylish, so-called mom jeans continue to dominate runways and street style. 
The persistent difference, though, remains that Kendall Jenner wearing mom jeans is fashion-forward; moms wearing mom jeans are drab. Now, you might be thinking, isn't that how all ironic fashion trends work? Wrong. Dads who dress like dads rest on their laurels.
For men, the right to be mediocre is a privilege women can never enjoy.
To be fair, maybe the mom hair Shapiro describes rings a bell. In 2007, when TLC's Jon & Kate Plus 8 aired its first episode, the concept of mom hair was perhaps best embodied by Kate Gosselin, whose short cut — with longer face-framing pieces in the front and spikes in the back — is now best known as the "I'd like to speak to your manager" haircut. 
Just last month, Saturday Night Live poked fun at the enduring trend with a sketch in which they describe the style as a "soft waterfall in the front but knives in the back." Actress Vanessa Bayer tells expectant mother Brie Larson ominously in the sketch, "No one wants the cut; the cut chooses you."
There is such a thing as a bad haircut, and identifying trends and offering tips and tricks is part of the Times Style section's job. However, any critique that relies on tired sexist tropes of older women as matronly, sexless beings and contributes to the persistent knocking down of mothers for the shoring up of all things "dad" is a bad one. 
And, daddies? Let's not even go there.