Frank Ocean New Album Update: R&B Singer Hints at Album Drop in July, But Who Even Knows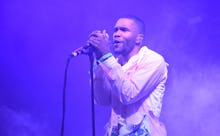 Frank Ocean is a tease. In April 2015, Ocean hinted his sophomore album would arrive in July of that year. Over a year later, the speculatively titled Boys Don't Cry still isn't here — but any day now, that could change. 
On Saturday, a blog post titled "late" appeared on the Grammy-winning singer's website. The picture — of a library check-in slip with "due date" written across the top, each missed date stamped in nearly chronological order — would seem to suggest that the album will drop this month. 
Some may say they've heard this song, seen this dance before. Ocean's producer, Malay, occasionally makes vague allusions to the album release date. Ocean's brother, Ryan Breaux, used the lure of a Channel Orange follow-up to Rickroll the internet last year. He has been mostly MIA save for a few rare sightings in which he has not debuted new music. In short, it's been over 12 months of crying wolf, which does not inspire confidence in Ocean's ability to set and stick to deadlines. 
As such, Twitter is taking the announcement with more than a few grains of salt.
These skeptical may have the right idea because, as the old saw goes, a watched pot won't ever boil. Perhaps pretending as if we never saw the cryptic dispatch in the first place; as if Ocean productively procrastinated his way into med school and that's his life now; as if 2012 was a one-off and Channel Orange will stand unchallenged as testament to a career that could've been — perhaps that's the way to coax Boys Don't Cry out of Ocean's studio and onto the internet.
Or perhaps Ocean really is just trolling us all.
Read more: