Christian Siriano Talks Leslie Jones and Fashion's Continued Need for Diversity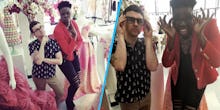 As Mic reported on Wednesday, when comedian Leslie Jones took to Twitter to announce that she was having a hard time finding a dress for her Ghostbusters premiere, Christian Siriano was the first designer to swoop in to save the day. 
But Siriano doesn't think he deserves any sort of applause for designing a dress for a well-known woman, who just happens to not be a size 0 or 2. He doesn't think it should be all that extraordinary at all. 
"It shouldn't be exceptional to work with brilliant people just because they're not sample size," Siriano tweeted. "Congrats aren't in order, a change is." 
In an interview with Mic, Siriano talked about the change that he thinks needs to happen so another situation like Jones's does not. The change that needs to happen so no woman, who just so happens to be not a sample size, is without a dress.  
In the end, it's about covering not just outrage over women like Jones being at a loss, but Jones's success as well. "My point in saying 'change' is that we want to support these women of size," Siriano explained. "Who's running these photos of her on the red carpet? I want to see the force. If it's a top ten best-dressed, it's a range of women. That's what I want to see." 
What he wants for women like Jones is more exposure, and celebration, rather than a focus on just one incident. 
For years now, Siriano has been a champion of people who don't fit into the fashion industry or society's status quo, designing gowns for Christina Hendricks and Danielle Brooks, as well as an entire line for the plus size retailer Lane Bryant, and partnering with American Express for its annual LGBTQ Pride campaign, #ExpressLove, which encourages people to express love in any number of ways. 
According to him, the focus on people of all different shapes and sizes just came naturally from wanting to just... dress women. 
"It doesn't feel very different to me," Siriano said. "And I guess it just comes from upbringing. I grew up with a mom who was a size 16. I went to school in Baltimore City, with all different types of people. It was just something that never was a question." 
Of the Lane Bryant line, he said, "My whole thing is that I want my brand to be accessible to every woman. I think that it's way more exciting walking down the street and seeing 10 women wearing Christian Siriano. At the end of the day, I'm here to make beautiful things for everyone." 
And because of this mentality, Siriano has been able to create a name and label that is open to various types of people, garnering fans as powerful as Oprah Winfrey. "If I didn't have things available for all these women, I would have never been able dress Oprah or Whoopi Goldberg," he said.
Or, in turn, Leslie Jones. When he threw his hat in the ring to design something for her premiere, his name made immediate sense because of his credentials. 
"I think that that happens over time," Siriano said. "Once you see that a designer can dress this kind of person, these other people are interested. And I think that is the challenge for other designers. There are other designers that haven't had the pressure to design for different body types. It's just that that's not they're thing yet." 
Of the Jones call-out, Siriano is still confused as to why it made such an impact in the media, with outlets from the New York Times to the Hollywood Reporter to CBS News and this outlet all reporting on a mere Twitter exchange. 
"It's not even a thing," Siriano said. "I don't know what the situation was in the world. All I knew is that I loved her. It was such a casual thing. [Some designers] could just not have had clothes in her size, or in those sample sizes. It could have been numerous different things." 
According to Siriano, the two are working together, as evidenced by just recently posted pictures with one another in his studio in New York City. 
As far as details on the dress, Siriano is mum so far, although they will be narrowing down the choices for her and deciding on the dress before the premiere late next week. 
At the end of the day, Siriano knows that he will make a great dress, but what he wants is attention not just on this Twitter discussion, but on Jones, the dress and her fellow women in Hollywood and the world who don't fit within the confines of Hollywood's beauty norms. 
"I am going to count how many of all these outlets are actually going to run the photos of Leslie on the red carpet," Siriano said. "Everyone's interested now, but I want to see more." 
Soon enough, we hopefully will too. 
Read more: