4th of July Cocktails That'll Satisfy a Crowd (And Get You Hella Drunk)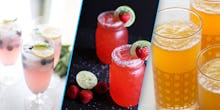 The Fourth of July is as much for fireworks as it is for serious feasting. Last year, nearly 64% of Americans attended a cookout or barbecue during the long weekend, CNBC reported. They collectively spent $6.7 billion dollars on food for the gatherings. 
Chances are there will be at least as much grub at this year's celebrations, and to properly wash it all down, parties should offer a serious drink option.
There's no need to supply your party guests with every type of liquor on the sun. Big batch cocktails are the answer for summer festivities like the Fourth, as they're ridiculously easy to concoct and look pretty damn elegant, too.
So this year, skip the jungle juice and that awful "America"-branded beer and whip up one of these large format cocktails below:
For the Festive Patriot
Red, White and Blue Sangria
It wouldn't really be a Fourth of July fiesta without at least one red, white and blue-themed drink. This sangria — which features white wine and champagne — checks that box without flooding the drink with artificial food coloring. Instead, the recipe turns to fruit, including star-shaped apple slices, for a seriously patriotic appearance.
For the Lemonade Fiend 
Blueberry Vodka Lemonade (with mint!)
If you're debating between serving a pitcher of lemonade or a cocktail, why not combine the two? This spiked lemonade has two layers of blueberry flavor: One from blueberry-infused vodka, and another from fresh berries. To class the drink up even more, toss in a handful of fresh mint. 
For a Pink Drink That Isn't Rosé
Pisco Strawberry Punch
Pisco, the popular spirit from Peru and Chile, makes for a great punch base. Because it's distilled from wine or fermented fruits, it pairs well with other fruity elements like St. Germain (an elderflower liqueur), fresh strawberry syrup and plenty of lime juice. The two bottles of sparkling cider this recipe calls for offers some refreshing carbonation — though swapping it out for champagne would likely be just as delicious. 
For Those Who Secretly Like Lime-A-Ritas
Strawberry Beer Margaritas
If the success of Bud Light's Lime-A-Rita have shown the world anything, it's that beer and margaritas pair together swimmingly. Keep your secret love for the store version safe by whipping together this homemade version, which gets it fruity kick from strawberry daiquiri mixer. Probably the best thing about this cocktail is that it only requires you to dump the short ingredient list into a pitcher and stir. 
For Those Who Think Watermelon Juice Is Something Holy
Watermelon Gin Punch
Nothing says summer quite like watermelon. But instead of tasking yourself with the hassle of slicing and dicing the cumbersome fruit, consider tossing it into the blender. Add in some gin, lemon juice and simple syrup to the watermelon juice and there you have it: A drink with some serious crowd-pleasing power.
Sweet Tea Bourbon Cocktails
Sweet Tea Bourbon Cocktails
Little exists that is more refreshing than a chilled glass of tea on a hot summer's day. The whole scenario can be upgraded, however, by adding a hefty serving of bourbon to the mix. This recipe combines the southern staple with bourbon, orange rounds and mint, making the combination a very sippable cocktail great for a crowd. 
For Beer-Enthusiasts
Being a beer fan doesn't mean you have to settle for a strange variety of cans and bottles sweating in the cooler. There are plenty of easy cocktails that call for beer as a base, including the shandy, which is just beer mixed with a soft drink. This version mixes freshly squeezed lemonade and a wheat-based Hefeweizen beer, but you can easily swap in the beer of your preference (or whatever you have in the fridge). 
Read more: