Are Kylie Jenner and Tyga Back Together? Dating Rumors Surface After Latest Snapchats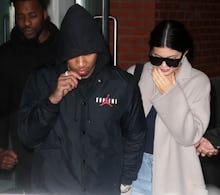 Reality TV star and teenage lipstick entrepreneur Kylie Jenner sparked the rumor mill recently when her latest Snapchats seemed to imply that she and her ex, rapper Tyga, were back together after splitting this spring. On Wednesday, Jenner snapped a video of herself at a nail salon, and, while zooming in on her nail designs, she said aloud, "This reminds me of her husband." 
The nails in question were black and gold — kind of like the Egyptian-inspired album art for Tyga's The Gold Album. Hmm, is that a clue that Kylie and Tyga are back on?
Earlier this week, gossip sites were abuzz with the news that Jenner had snapped a pic that seemed to show Tyga's hand on her leg. So is it official? Well, there's been no formal word from the Kardashian Kamp, but signs seem to point to yes.
Read more: