'She Loves Me' Online Livestream: Here's How to Watch Thursday's Broadway Show Online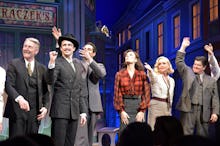 Broadway's no-recording-of-any-kind rule won't apply Thursday during the performance of She Loves Me. The musical revival is slated to be livestreamed online for non-theatergoers to tune in. For an entertainment medium that's typically very camera shy, Thursday's online livestream of She Loves Me is a first for the Great White Way. 
A few Broadway productions — Memphis, Of Mice and Men and Romeo and Juliet — have been broadcast online or on TV previously, but weren't live, according to USA Today. She Loves Me, which stars Tony Award-winner Laura Benanti and 30 Rock's Jane Krakowski, will take place at New York City's Studio 54 theater. 
"The show will live on forever, which is not the case with theater. Theater is ephemeral," Benanti told USA Today. "I'm excited that more people will get to see it than would normally be able to, for whatever reason, be it that they live out of town or can't afford it or they're not able to leave their homes."
Broadway fans who want to watch She Loves Me online can head to online theater streaming service BroadwayHD. The stream will cost non-BroadwayHD subscribers $9.99. The livestream begins at 7:50 p.m. Eastern, according to the website. 
Read more: