Ewan McGregor's Tweet Destroying Brexit Is Straight Fire — No Wonder Lena Headey Likes It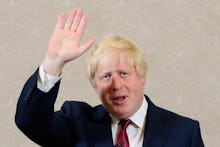 The millions of young people who must live with the U.K.'s historic decision to leave the European Union, made largely by the older voting population, aren't the only ones enraged about the way Brexit went down. In fact, they're joined by two forces on either side of evil, who teamed up on Twitter to take down the Dark Side: Queen Cersei from Game of Thrones and her apparent like-minded friend-in-battle, Obi-Wan Kenobi. 
Ewan McGregor, who starred in the Star Wars films as Kenobi — the legendary Jedi master tasked with defeating threats to the Republic — is not a fan of former London Mayor Boris Johnson, who became a major political voice behind Brexit. So when he caught wind of Johnson's decision not to run for prime minister after dismantling a major sect of the union, McGregor unleashed his lightsaber and went to work. 
"@BorisJohnson you spineless c$&t," McGregor furiously tweeted. "You lead this ludicrous campaign to leave EU. Win, and now fuc& off to let someone else clear up your mess."
While he could have accomplished this without the use of such a gross misogynistic slur, McGregor does have a point about the mettle of a politician who used fear, xenophobia and lies to make citizens of the U.K. vote against their own self interests — and then left future generations holding the bag.   
As if his words weren't fiery enough, Lena Headey, who portrays Cersei on GoT, seconded the harsh criticism, writing, "Couldn't have put it better myself."
What's in a tweet: The symbolic pairing of one of the most benevolent rulers on the hit HBO show with a character who spends his life fighting against such evil powers speaks volumes to the overall sentiment felt by many who wanted to remain in the EU in the wake of Brexit. 
For those who hoped unity would trump fears of a crumbling economy brought on by immigration and the European refugee crisis, Johnson represented exactly why they didn't want Brexit to ever happen. Now, one of the biggest voices behind the movement won't have a part in shaping how the EU's first divorce happens. 
And although Kenobi and Cersei would likely fight against each other in any other situation imaginable, even the two wildly opposite characters agree something must be done about the already-catastrophic and monumental decision.
Read more: