Loretta Lynch: "I Will Be Accepting" FBI's Recommendation in Hillary Clinton Email Case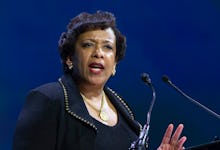 Attorney General Loretta Lynch said on Friday that she will accept FBI and career prosecutors' recommendations about whether to bring criminal charges against presumptive Democratic presidential nominee Hillary Clinton over her use of a private email server during her time as secretary of state.
"I fully intend to accept their recommendations," Lynch said during a Q&A at the Aspen Ideas Festival in Aspen, Colorado.
Her announcement comes a day after conservative uproar over a chance airport meeting between Lynch and former President Bill Clinton — which Republicans said impaired Lynch's ability to be impartial in the email case.
Presumptive Republican presidential nominee Donald Trump on Thursday called the meeting "so horrible" and "really a sneak."
Lynch said Friday she regrets the meeting, adding that it has "cast a shadow" over the investigation — even though she says the conversation was personal in nature and did not touch on the email investigation.
Lynch added that she had made the decision to accept the FBI's recommendation for how to proceed on the email case before the meeting with the former president.
For months, the FBI has been investigating whether Clinton and her staffers violated laws by setting up a private email server in her home during her time as secretary of state.
Lynch said she did not know when a recommendation will land on her desk.
But the Times reported that the FBI is expected to make their recommendation to the Lynch-led Justice Department soon.
Any decision is expected to continue to overshadow the 2016 campaign.
11:40 a.m. Eastern: This story has been updated.
Read more: