Team of Students 3-D Print a 'Frozen' Prosthetic Arm so Young Girl Can Be a Princess, Too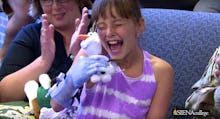 Just like practically every young girl on the planet, Karissa Mitchell is obsessed with the film Frozen. 
So, when a volunteer network that provides prosthetics to those in need called Enabling the Future and a team of physics majors at Siena College met the 9-year-old New Yorker, who was born missing part of her right hand and wrist, they knew exactly how they wanted to create her arm. 
The group of students 3-D printed an icy blue hand for Mitchell to employ in simple tasks: passing a ball to her dominant arm, picking up objects and moving items with both hands. 
Snowflakes line the sides of the 3-D arm, and there's a removable Olaf light the young girl describes as one of her favorite parts, in a video posted to YouTube by the school. 
"Karissa really identifies with Elsa because she knows what it's like to be different from everyone else," her mother said, Time reported on Thursday. "She doesn't want to be seen as different, which has made her extremely determined to do things as well, if not better, than others."
The hand is customized to Mitchell's exact measurements, and is capable of opening and closing by simply bending the elbow. It's a transformative tool she'll be able to use to live, play and have the self-confidence like every girl her age deserves. 
"Our goal is to help people," one student who made the arm to Mitchell said in the video. "That's what we get out of it. Yes, we learn about 3-D printing and the technology, different engineering concepts, but the best thing is today. Seeing the look on her face and hope we can change her life a little bit for the better."
Read more: