Kylie Jenner's New Puma Campaign Channels a Pre-Kardashian America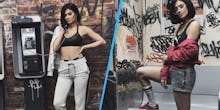 In the 1980s, there were beepers instead of iPhones. Acid wash instead of jet black. Perms instead of blowouts. The Kardashians (and Jenner sisters) were nowhere to be seen. 
With her new campaign for Puma, Kylie Jenner celebrates that era. An era in which reality TV and liquid-to-matte lipgloss were just a sparkle in someone's eye.
Although Jenner's first campaign was all about posing like she was fresh off a run, this one is all about the 18-year-old channeling her best impression of the 1980s, posing seductively in a sports bra, acid wash short shorts, a big ol' belt and a pair of Puma Suede shoes. 
The campaign is meant to look like Jenner time traveled back to the Reagan era, as she leans forward on a graffiti-laden subway bench. Her glasses recall an era not only pre-Kardashian, but pre-Warby Parker. 
In another image from the campaign, Jenner poses alongside an ancient artifact, known as the payphone, with her pants hung low. 
"The PUMA Suede started its story in 1968," Puma wrote on Instagram. "Worn by athletes, b-boys, and hip hop stars of the day. Today, the story continues on the feet of another icon: PUMA Suede, meet Kylie Jenner." 
But, by far, the piece de resistance in this campaign is the video Puma just released, which has Jenner flipping on an oversized radio, bopping along the New York City subway and intermittently checking what a large black box that's clipped on her belt. And that, friends, is a beeper. 
Can't blame them for trying to be authentic. 
According to High Snobiety, Kylie's new line will appear on Puma's online store in the near future. 
Read more: