'Orange Is the New Black' Star Danielle Brooks Tweets About Offensive Airport Experience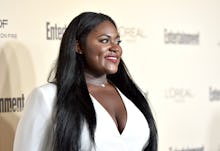 It makes sense that Danielle Brooks, who plays leading roles in the Netflix hit series Orange is the New Black and Broadway's The Color Purple, would fly in first class. But apparently on Thursday, it came as a surprise to the airport staff helping Brooks board her flight.
"I hate when gate agents look at me like I've never flown first class and say, 'You're in first class, lucky you!'" wrote Brooks in a now-deleted tweet.  "Really tho."
Though Brooks didn't explicitly call herself a victim of racism, for some Twitter users, it was implied:
For others, it wasn't so crystal clear. Some users knocked Brooks for being offended by "anything" and told her she could count herself "lucky" for being able to fly first class. 
"Not everything is racist," tweeted one user.
While it may be easy to dismiss the gate agent's comment as polite at best or patronizing at worst, history has shown that even celebrities of color, despite their fame, are not immune to racial biases.
In 2013, Oprah Winfrey recounted walking into a store in Zurich, Switzerland and asking to see a handbag priced at around $40,000 (that's a year's salary for many people but certainly within the price range for a multi-billionaire). The sales clerk refused to let her see it, telling Winfrey, "No, it's too expensive" and offering to show her cheaper purses instead, according to CBS News.
Winfrey said she replied, "Okay, thank you so much. You're probably right, I can't afford it," before leaving the store.
One Twitter user pointed out that what happened to Brooks is part of a broader trope that affects women of color disproportionately.
"The expectation that black women are broke is pervasive," wrote @plumpdn. "I have perfected the dead-eyed 'You're not worth my time' face."
Read more: