Kylie Jenner Is Saving 4th of July With Massive Lip Kit Restock — Here's How to Get Them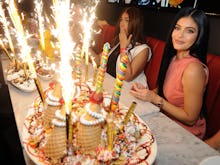 Getting your hands on Kylie Jenner's infamous lip kits is a task akin to scaling base camp at Everest; to teaching your parents how to properly use a hashtag; to watching Selena Gomez attempt live vocals. For Jenner, it's the perfect paradigm of supply and demand, with past lip kits selling out instantly as her following only continues to grow. Even the lip kit dupes sell out.
But that's all about to change, thanks to a announcement made by Jenner yesterday on Snapchat. In the exhaustive nine-part video series, Jenner reveals that today, July 1, at 7 a.m. Eastern, the biggest lip restock yet will be made available on her site. Why? "So that you can enjoy your Fourth of July," she reveals in part five, clearly worried that BBQs, fireworks and time with loved one would not suffice.
"Okay, so tomorrow, I'm really excited to say..." she begins.
"I'm having another restock tomorrow, but it's not just any restock..."
"We've been working really, really hard these past few months to make as many lip kits as we possibly can. Because if you know me, you know that I hate that they're always sold out..."
"So tomorrow morning, I'm stocking the website with the most lip kits you could possibly imagine for you guys..."
"... so that you can enjoy your Fourth of July weekend and shop at your leisure and not feel pressured."
"So tomorrow morning, 10am Pacific time, and on for hopefully a week..."
"You guys can visit my site, KylieCosmetics.com and get lip kits whenever you want."
"I've been working on a lot of new things for my cosmetic line and I've got fun things coming in July..."
"I have just been putting my energy there. And I just want you guys... I just don't want it to be sold out all the time. And it's not... anymore. Tomorrow"
The news of it being available for a week is particularly big considering that the last restock sold out within hours. As for the the "new things" teased in the video? Time will only tell. 
But if past successes are any indicator, regardless of criticism or controversy, it'll be a cash cow — and the richest family in America will keep on getting richer. And what, on Fourth of July, is more American than a Kardashian's bank account going ka-ching?
Read more: