Breast Cancer Survivor Paulette Leaphart Finishes Her 1,034-Mile Topless Walk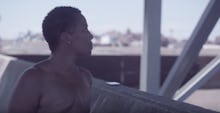 On Monday, breast cancer survivor Paulette Leaphart completed her 1,034-mile-long, topless walk from Biloxi, Mississippi, to Washington, D.C. At the end of her 60-day journey, which so happened to be her 50th birthday, Leaphart stood on the steps of the Capitol building, and said, "Thank you, God," according to ESPN. She was accompanied by her 8-year-old daughter Madeline. 
"It was healing to me," Leaphart said, according to the Washington Post. "It was gaining back my strength. It was spending some personal, much, much, much needed time with God."
After being diagnosed with breast cancer that required a double mastectomy in 2014, Leaphart decided to embark on her trek on April 30 as a call for action to improve the American healthcare system and ultimately find a cure for cancer. 
After her surgery, Leaphart felt like "less than a woman," she told NewsOne in an interview. On top of that, her medications cost up to $5,000 a month, forcing her to choose between paying for her meds or rent because insurance wouldn't cover them.  She chose the meds and was evicted from her home. Her cancer treatment also damaged her mouth, and she can't afford to pay for that either.
Leaphart said it was God who told her to remove her shirt while at a beach on Labor Day weekend, which prompted her and two other women to cry. It was the first time she let the public see her scars, she told the Washington Post. 
"We need to tell the truth about cancer," she said. "They're using the slogan, 'Save the ta-tas,' but the ta-tas aren't what's important. It's the people with the breasts. You can still be alive without your breasts."
While on her journey, Leaphart and her daughter sometimes had to walk more than 30 miles a day before finding somewhere to rest for the night. Police would also stop them because of her toplessness.
Unsurprisingly, her voyage went viral and caught the attention of Beyoncé, who featured her in the "Freedom" portion of her Lemonade visual album. A film crew also wanted to create a documentary called Scar Story about Leaphart, but soon scrapped the project over financial disagreements. 
"People expected me to quit now that there wasn't any publicity," Leaphart told ESPN.
But she persevered —and plans on facilitating a march on July 9, also in the name of finding a cancer cure. 
Read more: