There's a New Game Changing Item on Chipotle's Menu — And It's About Time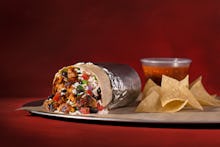 Unlike a number of restaurants which are constantly adding new items to their menus, Chipotle has no problem sticking to the same set of options year after year. But in a rare move, the company recently announced that has added a new item to its menu: chorizo. This is Chipotle's first menu change since adding sofritas (braised tofu) back in 2014. 
Locations in Columbus, Ohio, New York City, San Diego and Sacramento, California, as well as a single restaurant in Denver and the Dulles International Airport location in Washington, D.C., will offer chorizo to add to burritos, bowls, salads and tacos this summer. The rest of the country will have to wait until the fall to get their hands on the new menu item. 
So What Is Chorizo?
Chorizo is a spicy pork sausage commonly used in Spanish and Mexican cooking, BBC's Good Food noted. The sausage is typically seasoned with chili and paprika and is usually sold in the form of of a sausage link. Chorizo is also served ground and is often stuffed into tacos or egg dishes.  
Chipotle's chorizo will be a sausage made from a mix of chicken and pork, the press release stated. Like the chain's other proteins, the new chorizo will be "responsibly raised," meaning the company will source the meat from animals that have not been raised with antibiotics or added hormones. 
Is It Healthy?
Chipotle has not responded to Mic's request for nutrition stats, but the usual curing and smoking process for chorizo makes it extremely high in sodium, Calorie Count wrote. 
Odds are good that the chorizo isn't the healthiest option on the menu. According to the USDA, a 4-ounce serving of chorizo has 516 calories, 43 grams of fat and 1,400 milligrams of sodium. Meanwhile, a 4-ounce serving of Chipotle's grilled chicken has 180 calories, 7 grams of fat and 310 milligrams of sodium. 
How Do People Feel?  
People appear to be psyched about the chorizo announcement, with people expressing their excitement on Twitter with plenty of heart eye emojis: 
Early taste testers, however, are not loving it. 
Eater's restaurant critic Ryan Sutton said the new meat "tasted heavily like bland chicken breast mixed with a cheap supermarket "dry taco seasoning mix." Business Insider taste-tester Hollis Johnson noted the meat is dense and dry, and definitely doesn't live up to the bold and fatty taste characteristic of chorizo. Yum?
Chipotle has had a rough year thanks largely in part to the multi-state E. coli outbreak that led to declining sales. And the news keeps getting worse: A Chipotle executive was linked to a major drug ring in New York City on Thursday. While the chain has deployed a number of tactics to win back customers — such as its rewards program called Chiptopia — chorizo might not help the chain's case if early taste tests are any indication. That is, of course, unless the sausage came with free guac. 
Related Links