If Apple Buys Tidal, It Would Give Jay Z the Stylish Exit He Needs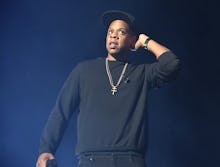 Last March, Jay Z attempted to start a "revolution in streaming" by launching Tidal, a streaming service that would finally put artists first. From the outside, what that's looked like is allowing Kanye West to endlessly tweak and retweak The Life of Pablo and locking Beyoncé's Lemonade behind a $9.99 a month paywall. It's been a punchline and a money-suck more than a revolution most of the time — but Jay Z's streaming headache may be finally coming to an end.
The Wall Street Journal reported Thursday that Apple is tentatively in talks to buy take the streaming service off Jay's hands. "The talks are ongoing and may not result in a deal, these people said," according to the Wall Street Journal. "Terms of the potential deal aren't known." A Tidal spokesperson did deny the claims. But as the news follows close on the rumors of a similar Samsung deal, it seems the tides may soon be a-changing again, to quote Sean Carter from back in Tidal's early days.
Jay's Tidal has had an extremely rough first year. Since March 2015, Tidal has gone through three CEOs, one put in place by the company's prior management and one who only ever stood as an interim officer. Its exclusive album deals, which have offered free trials to hear Rihanna's Anti, West's T.L.O.P. and Beyoncé's Lemonade, haven't exactly translated into new subscribers. 
A report authored by marketing analytics company Jumpshot reveals that one-fifth of those who subscribed to Tidal during Lemonade's first week cancelled their membership before their 30-day free trial was up.
Lawsuits have also regularly wracked the company. In February, Tidal sued the original owners of Tidal for inflating their subscriber numbers during the deal. Though all of this, Tidal has only tallied 4.2 million paying subscribers, versus Spotify's 30 million and Apple Music's 15 million, as reported in June.
Apple's interest in acquiring Tidal follows reports of some other aggressive moves the tech giant has made towards its other streaming competitors. In June, Spotify accused Apple of using its app rules as "weapons to harm competitors" after it rejected one of their updates, according to the Financial Times.
If Apple goes through on their supposed Tidal deal, the heat in the race for streaming's top seat is only going to up. Recode's Peter Kafa believes Apple has "maximum leverage" over Tidal, as he wrote in a tweet, as Samsung walked away from a similar acquisitions talk a few months ago.
On the bright side, selling his streaming experiment would likely give Jay Z the time to get back to what he's long neglected — his bars. And he'll need to if his rumored Lemonade response is going to amount to anything more than a footnote in Reddit's /r/hiphopheads.
Read more: