Rita Ora Might Host New 'America's Next Top Model' — And the Internet Is Not Having It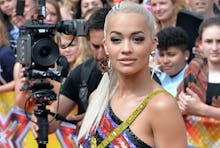 Rita Ora, the world's preeminent who, alleged Becky and former Rob Kardashian flame, is rumored to be replacing Tyra Banks as host of the the upcoming reboot of America's Next Top Model.
A lot to unpack here, so let's start with: Wait, what, they're rebooting ANTM? Didn't it just end? 
The simple answer is yes... and yes. The longer but not necessarily less simple reasoning: ANTM is too popular a brand to die a noble death. With the surge in popularity that came towards the tale end of the original franchise's 22 cycles (thanks, in large part, to breakout final winner Nyle DiMarco), VH1 decided to acquire the series in an effort to prove that in 2016, both what's old and not yet old are both viably new again. 
Of course, there was one large caveat that came with the news: Tyra Banks, the series host and executive producer, the woman responsible for creating some of the best GIFs the internet has to offer...
.... would be MIA.
Who to replace such an icon of the modeling and reality television world? Apparently the options were limited, with the unconfirmed announcement via U.K.'s the Sun that Rita Ora has been tapped to replace Banks.
According to the Sun's unnamed source (yet another "who?" to the story), "Rita is in a dream world as she's landed the ultimate gig. She'll be mixing her two passions of fashion and music and taking over from a TV institution in Tyra. Next Top Model bosses wanted to inject some freshness back into the format and they see Rita as the ideal new face."
The internet, specifically Twitter, was swift to issue a series of next-level responses to the news. While Twitter is usually a reliable laugh in instances like these, users really outdid themselves with this one, dragging Ora for filth. 
Good work, Twitter. If these tweets are any temperature read towards people's feelings on the casting, it looks like VH1 might want to consider phoning Chrissy Teigen, or say an actual model, for this coveted gig.
Read more: