Kids Give Musician Robb Nash Their Suicide Notes, So He Tattooed Their Names on His Arm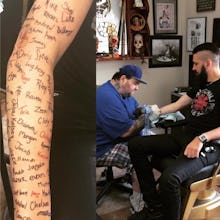 Earlier this month, former Canadian rock musician Robb Nash got some new ink: the names of 120 kids all over his right arm.  
Each name is of a student who's given their suicide note to Nash after being moved by one of his suicide awareness presentations.
Nash said he hopes to use it as an exhibition of solidarity for others contemplating suicide, and to give them hope. 
Nash travels around Canada speaking at around 150 schools a year, to talk about choosing life over suicide. He encourages them to channel their emotions into creativity and also compassion. 
That's because he knows firsthand what it's like to contemplate taking his own life. 
When Nash was 17 years old, he felt invincible. He was a jock and popular in school. But a severe car accident left him with a rebuilt skull and shoulder, and steel bolts in his clavicle. His life forever changed, and he struggled to get a job and also couldn't play sports anymore. 
"Every option I thought I had was gone," he said, according to the Washington Post. "I had a lot of dark thoughts. I didn't want to be alive."
Then one day his brother told him that his accident wasn't because "everything happens for a reason," but because Nash was driving too fast. In other words, Nash has in control of his own life, even post-accident. 
So he became a musician, which gave him the opportunity to perform in prisons and schools and share his empowering story.  
Now, with his new tattoo, he can also share the stories of 120 other kids who chose life over suicide — and especially, to prove to those who think they're alone, that they're not. 
Read more: