A Federal Judge Just Blocked Mississippi's Anti-LGBT Religious Exemption Law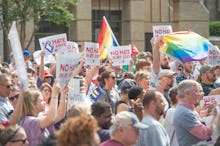 On Thursday night, United States District Court Judge Carlton Reeves thwarted HB 1523, the bill Mississippi Gov. Phil Bryant signed into law in April, which granted religious organizations, private businesses and some state government employees the right to deny services to the LGBTQ community based on their beliefs.
According to BuzzFeed News, Reeves killed the law just hours before it was set to go into effect on Friday, saying that it violated "religious neutrality and the promise of equal protection of the laws."
"The majority of Mississippians were granted special rights to not serve LGBT citizens, and were immunized from the consequences of their actions," wrote Reeves in court documents. 
"LGBT Mississippians, in turn, were 'put in a solitary class with respect to transactions and relations in both the private and governmental spheres' to symbolize their second-class status."
Reeves wrote that the law constituted "state-sanctioned discrimination."
Reeves' decision was a huge victory for the LGBTQ community and its allies and advocates, who called for the law's repeal at protests in May. They had attacked the bill from all sides, with nonprofit organization Plant for Peace purchasing billboard space to broadcast their message showing Jesus saying, "Guys, I said I hate figs and to love thy neighbor." Days later FunnyorDie.com skewered Mississippi legislators with a fake tourist ad declaring, "Come to Mississippi — we're even worse than North Carolina!" 
Under the law, Mississippi's equivalents to Kentucky County Clerk Kim Davis would have been well within their rights to refuse services to LGBTQ people.
Read more: