2 Muslim Men Were Shot Near Minneapolis Mosque, Police Are Investigating as Hate Crime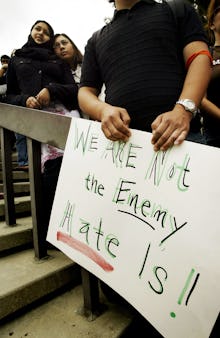 Two Muslim men were wounded in a shooting on their way to attend overnight prayers — a common practice for those observing the holiest days of Ramadan — at a mosque in Minneapolis Wednesday morning.
Five men wearing traditional prayer robes called Qamis were seated in a car, which was stopped at a corner, when two white men came up to them and shouted anti-Muslim epithets, the Minneapolis Star Tribune reported.
Seven shots were fired at the victims' vehicle, Council of American Islamic Relations Director Jaylani Hussein told the Star Tribune. Two of the Muslim men, ages 19 and 22, were struck in the leg and taken to the University of Minnesota Medical Center; the other three were not harmed.
Minneapolis police announced Thursday that they will be investigating the incident as a possible hate crime, according to the Star Tribune. The Council on American-Islamic Relations also held a news conference calling for local police and the FBI to investigate if anti-Muslim sentiment was a motive in the shooting. 
Despite having a predominantly large immigrant Somali-Muslim population, there have been several anti-Muslim and anti-Somali incidents in Minnesota within the past few years. 
On Oct. 30, 2015, a 43-year-old white woman attacked Asma Jama — a Muslim woman of Somali descent and Kenyan nationality — for speaking Swahili in an Applebee's in the outskirts of Minneapolis. The woman smashed a beer mug to her face. Jama suffered from cuts on her face and a busted lip. The woman was charged with third-degree assault.
In February, there was controversy over how a license plate that read "FMUSLMS" on a red Chevy pickup truck was issued by Minnesota's state government. After Gov. Mark Dayton publicly condemned the license plate, local authorities revoked it from the owner.
Just last week, the Star Tribune reported about local anti-Muslim incidents, including one in which a Muslim halal shop owner found pig intestines tied to his door handle and stories of school children taunting Muslim classmates by calling them "ISIS" and "terrorist.' 
In an effort to promote tolerance, a Muslim man attended an anti-Muslim event near St. Cloud and raised his hand to speak, at which point another audience member reportedly responded "sit down or I'm going to shoot you between the eyes."
Anti-Muslim attacks have skyrocketed during the current presidential election cycle. According to a 2016 Georgetown University study, there were 180 reported anti-Muslim attacks since the beginning of the presidential elections. 
The study also found anti-Muslim violence surged in December 2015. This is around the same as the San Bernardino shooting, after which Donald Trump called for a "total and complete shutdown" on all Muslims entering the U.S. The study also found that anti-Muslim attacks occurred almost every day, and multiple times a day, during the month of December.
"There were 53 total attacks that month, 17 of which targeted mosques and Islamic schools, and 5 of which targeted Muslim homes," the report read. "By comparison, when the presidential election season began just nine months earlier, there were only two anti-Muslim attacks. Attacks on Muslims during this month constitute almost one-third of all attacks last year." 
Children and adolescents as young as 12 years old, according to the study, were often responsible for anti-Muslim threats and violence. The study also found that most Muslim murder victims were between 18 and 24 years old. 
Read More: