Why a Restaurant Is Making Popsicles With Bone Broth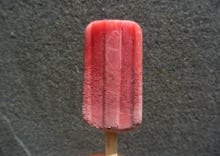 Popsicles are a summertime staple. And if you're craving a refreshing, icy treat that's healthier than those artificially colored and flavored freeze pops of your youth, you're in luck. 
A health food restaurant in New York City is now selling popsicles made with one very trendy ingredient — bone broth. Springbone Kitchen, debuted the beef broth-infused icy treats in June, the New York Post reported. The treats cost $4 a pop, and each has a third of a cup of bone broth. 
In addition to the beef broth, the popsicles contain coconut milk, pomegranate juice, raspberry puree and a touch of maple sugar. Springbone Kitchen founder Jordan Feldman told the newspaper that consumers will not be able to taste the broth because the other flavors are more prominent. 
Feldman told the New York Post that collagen-rich bone broth helped him rehabilitate an injured knee. But nutritionists say the current hype surrounding bone broth may be overblown., Turns out that there are few scientific studies on bone broth's nutritional benefits, NPR reported. 
"Bone broth as part of a well-balanced and nutritionally sound diet is probably harmless, but it is not some type of 'miracle food source' with the ability to cure a multitude of aches, pains and diseases all by itself," William Percy, an associate professor at the University of South Dakota's Sanford School of Medicine, told NPR. 
So while a popsicle made with bone broth and natural fruit purees is healthier than a lot of treats, don't expect it to be a miracle dessert that magically transforms your health. 
Plus, there are a number of other fun ways to cool down this summer that don't require consuming dead animals like these fun, big-batch cocktails. You might need to throw back a few just to work up the courage to try a meat popsicle, anyways.   
Related Links