Fergie Has Got That "M.I.L.F. $" Money in Her New Single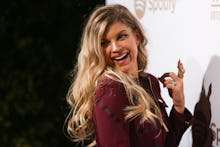 Regardless of where you stand on the "Fergie ruined the Black Eyed Peas" debate, it's hard to deny that the lady can slay a hook. The 41-year-old songstress proved her powers once again Friday, debuting her track "M.I.L.F. $." It's a whirlwind three-minute banger, filled with double-times raps and a whole lot of grown, independent-woman style.
"You got that milk money," she sings taunting the haters. "I got that, I got that, I got that MILF money."
The song serves one of the lead singles off Fergie's upcoming Double Duchess, her first album in 10 years. It follows 2014's "L.A. Love (La La)" and the edgy black-and-white video for "Hungry (1st Byte)." As her tweet revealed, the music video for "M.I.L.F. $" is coming "sooner than you think." It's been rumored that famous mamas Ciara, Kim Kardashian West and Chrissy Teigen have all filmed scenes for the clip. 
Listen to Fergie's "M.I.L.F. $" via Spotify below.
Read more: