4th of July Fireworks in NYC, Boston and DC: Times, Locations and Where to Watch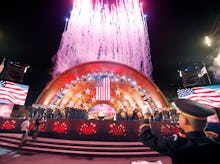 This Monday, people all around the country will celebrate the Fourth of July with cookouts, fireworks and parades. For those of us planning to spend the holiday night indoors in front of the television, there are several broadcasts planned of Fourth of July festivities in cities that go all out for Independence Day. Here's how to watch the biggest Fourth of July parties in the country:
Boston
Boston, the seat of the American Revolution, has one of the best Fourth of July celebrations in the U.S. This year's Boston Pops Fireworks Spectacular begins at 8:30 p.m. Eastern in Boston, on the Charles River Esplanade, and will air on CBS from 9 p.m. to 11 p.m. Eastern.
In addition to the performance from the Boston Pops Esplanade Orchestra, the show will also feature performances from Demi Lovato, Nick Jonas and counrty group Little Big Town.
New York City
One of the most spectacular annual traditions in New York City is the Macy's Fourth of July Fireworks show, which sets off annually from barges on the East River. This upcoming holiday marks the 40th anniversary of the show, which means an even bigger celebration that usual.
Anyone who wants to watch the festivities can tune in and see the show live on NBC starting at 8 p.m. Eastern on Monday, July 4, or tune in on the official NBC live stream.
Performers at the Macy's Fourth of July Fireworks 40th anniversary celebration will include Kenny Chesney, Meghan Trainor, 5 Seconds of Summer and Pitbull — as well as Jennifer Holliday and the United States Air Force's Singing Sergeants who will perform "America the Beautiful."
Washington, D.C.
The televised celebration in Washington D.C. will be broadcast live from in front of the Capitol building on PBS, from 8 p.m. to 9:30 p.m. Eastern. The show, A Capitol Fourth, will feature musical performances as well as the "greatest display of fireworks in the nation," according to its official website.
Read more: