Rapper Boosie Badazz Argues TV Is Trying to "Make Everybody Fucking Gay"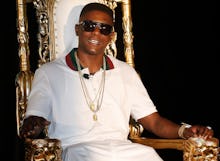 Hip-hop has come a long way on LBGTQ issues since the early '90s, back when "faggot" was the genre's insult du jour. Blatant incidents of homophobic hate speech are harder to find today, but that doesn't mean they're gone. For example, take Vlad TV's recent interview with Louisiana rapper Boosie Badazz.
In a video posted Thursday, the hip-hop-centric YouTube channel was asked to discuss a now-deleted Instagram post, in which Boosie said he was not down with all the "gay shit" on TV. He used the opportunity to reassert his views, claiming that a sinister "they" is trying to "make everybody fucking gay."
"They tryna make everybody fucking gay," Boosie said. "They putting it on our culture. They're putting it everywhere. Gay stuff is everywhere. I think that they're just trying to do it to make a monetary gain. They're not doing it for the gays. They're not really fans of the gays. They're doing it for monetary gain, man. They try to make money off these people, man."
"You got cartoons that have gays," he continued. "On cartoons! These are kids. Let kids make their own decision if they wanna go that way — 6- and 7-year-olds, 5-year-olds shouldn't be turned onto gay cartoons when their mind not even developed yet. What if they like how that cartoon talk? Now, you're forcing them to be gay. Every TV show is gays. They're kissing each other. It's out of hand ... It wasn't like that when I was coming up." 
Later in the interview, Boosie shares what he would do if his son came out as gay.
"First, I'ma try to slap his ass back straight," he said. "I'm gonna kick his ass. Maybe he'll realize he's not gay. But if I can't stop him from being gay, I'm not gonna ban my son from my life. I'll just have to find some crazy-ass way to deal with it."
Boosie's views are not exactly unique in hip-hop. Eminent hip-hop conservative Lord Jamar from the group Brand Nubian has also spoken to several publications about the ways in which gay-friendly acts, like Macklemore and Le1f, are effectively trying to "sissify" black men. Rappers such as 50 Cent, Beanie Segal and Ja Rule have also made homophobic remarks while discussing their values. 
This attitude has established hip-hop as notoriously close-lipped on LGBTQ rights. It's an attitude that rapper Kid Cudi pledged to change following the shooting at Pulse nightclub in Orlando.
For the sake of hip-hop's future as a genre fit to speak for the voiceless, the endangered and the oppressed, listeners can hope he'll succeed.
Read more: