Siege on Hostage Situation at Cafe in Bangladesh Results in at Least 13 Rescued; 26 Dead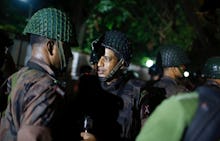 An overnight siege in an attempt to rescue hostages from being held by gunmen at a cafe in Dhaka, the Bangladeshi capital, resulted in the deaths of at least 26 people — including 20 hostages and 6 of their armed captors — according to CNN. 
CNN reported that the 20 hostages killed during the operation were all foreigners. Among the dead were at least nine Italians and seven Japanese, the BBC reported. Three U.S. students were also confirmed killed, with one gunman arrested.
At least 13 hostages were rescued by the operation, according to a statement from officials.
Gunfire between the attackers and local law enforcement during a police operation on Friday reportedly left 40 people injured and two police officers dead, according to CNN.
A "source at the scene" of the hostage situation told CNN on Friday that "attackers threw explosives at officers," the outlet wrote. 
"They blasted several crude bombs, causing wide-scale panic among everyone," Sumon Reza, an employee at the restaurant, told the Daily Star Online, a Bangladeshi news outlet. "I managed to flee during this confusion."
Police are working to negotiate the safe release of the hostages, who are being held at the Holey Artisan Bakery, the BBC reported. The cafe is reportedly "popular with expats," according to CNN.
A tweet posted Friday afternoon by the U.S. Embassy in Dhaka urged people to "shelter in place and monitor news."
The BBC reported the Islamic State group, also known as ISIS, has taken credit for the attack. According to CNN, the U.S. State Department has yet to corroborate their claim.
This is a breaking story and will be updated.
July 2, 2016, 8:52 a.m. Eastern: This story has been updated.
Correction: July 1, 2016