5 Healthy and Easy Smoothie Recipes That'll Get You Through the Summer Swelter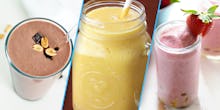 Summertime, and the living's easy. Cool your hot self off with a refreshing smoothie — the recipe is basically foolproof (dump ingredients, blend, enjoy) and it only requires a single kitchen gadget. 
It might finally be time to ditch breakfast cereal and hop on the smoothie train. Smoothies contain lots of fiber. They also sneakily add more mineral-packed fruits and vegetables to your diet — and the naturally sweet taste of fruit will mask the bitter taste of leafy greens like spinach and kale. Your move, vegetable haters. 
Just remember: Healthy foods like peanut butter and avocado still can add a lot of calories and fat to your sip, so don't be mindful of portion sizes when adding those foods to your blender. 
Ready to get started? Check out these five quick and easy smoothie recipes that are sure to please. 
For the Peanut Butter Aficionado
Chocolate Peanut Butter Protein Shake Recipe
If a Reese's and a protein shake had a baby, it'd taste something like this. Chocolate protein powder doesn't taste chalky when mixed with naturally sweet banana and nutty peanut butter. Feel free to swap in almond butter for drink that's got a similar flavor profile. 
For the Caffeine Addict
Mocha Banana Smoothie Bowl Recipe
Want to have your coffee and eat it too? Kill two birds with one stone by whipping up this coffee-infused smoothie bowl. It's got instant coffee for a small but potent caffeine boost. (And 20 grams of protein with just 7 grams of fat to boot, meaning it's much better for you than a Starbucks Frappuccino.) 
For the Wannabe Vacationer
Pineapple Ginger Smoothie Recipe 
Sip on this drink and imagine yourself swinging on a hammock on a tropical island, with the wind blowing through your hair. It's basically a nonalcoholic piña colada — can you dig it? With protein-packed Greek yogurt, you'll feel satiated and energized for whatever your summer brings. 
For the Berry Enthusiast
Pineapple Upside-Down Strawberry Smoothie
Whether you need a breakfast smoothie or an afternoon pick-me-up, this fruit-packed recipe has your back. Put broiled pineapple in the bottom of your glass before pouring in the smoothie for a hot and cold concoction that's extra satisfying and sweet. (It's totally worth it if you've got the time.) 
For the Health Conscious
Blueberry Kale Smoothie Recipe
Not all green smoothies are green. Case in point: This dark beverage that gets its murky hue from antioxidant-rich blueberries. The sweetness of the berries masks the bitter taste of kale so even picky eaters can still get a serving of veggies in. Huzzah! 
Read more: