Can't Get Tickets to 'Hamilton'? Take a Historic 'Hamilton'-Themed Road Trip Instead.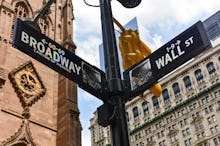 Alexander Hamilton's stock keeps going up. Not only does Lin-Manuel Miranda's smash-hit musical Hamilton continue to break records and rake in prestigious awards, tickets have been sold out for months since it recently took home 11 Tony Awards in addition to the Pulitzer Prize and Grammy it's already won. It's also inspired renewed interest in Revolutionary American history. 
But if you're not willing to pay a small fortune or wait a year to see the show, there's an all-American alternative that will bring the drama of this controversial founding father to life: road trip!
With gas prices down, the American summer road trip is back. And with the epic 46-song cast recording cued up, you've already got the soundtrack.
Whether you start in Yorktown, Virginia, or New York City, all stops on this journey are along the Eastern seaboard, and the maximum distance between your start and end points is about 7 hours.
Yorktown: "And so the American experiment begins..."
Most of Hamilton's story starts and ends in New York City, but let's save the best for last. We'll begin our trip at the battlefield that solidified Hamilton's legacy as a great soldier in the American Revolution.
As we know from the show's opening number, Hamilton was an immigrant orphan who went to New York hoping to prove himself by whatever means necessary. After studying in a preparatory school in New Jersey, he entered King's College, now Columbia University, but quit after a year to join the Revolutionary Army.
Hamilton saw the impending war with Britain as his only opportunity to rise above his social and economic station. "God, I wish there was a war/ Then we could prove that we're worth more/ Than anyone bargained for," a young Hamilton says to his new friend and future rival, Aaron Burr, in the musical.
Hamilton quickly proved he was worth more than anyone bargained for. After starting out as a soldier in the war, Hamilton stole British guns and cannons during the Battle of Brooklyn. Shortly thereafter, Gen. George Washington took notice of him during the Battle of Harlem Heights. Hamilton was promoted to be George Washington's "Right Hand Man." But it was his valor at the decisive Battle of Yorktown that helped to clinch an American victory.
The historic Yorktown and nearby battlefield are both available to visit. Look out for the plaque marking the spot where Hamilton led a stealth attack ("take the bullets out your guns!") featured in the "Yorktown" number. (And bring a bathing suit: Yorktown has a small beach where you can catch some sun before heading to your next stop!)
Washington D.C.: "She tells my story!"
It wouldn't be an American history-themed trip without a stop in the nation's capital. Hamilton's wife Elizabeth (Eliza) Skylar Hamilton lived for 50 years after her husband died in a duel at Burr's hands in 1804. Eliza used her time as a widow wisely. She raised money for the construction of the Washington monument, pieced together all of Hamilton's writings to tell his story and started the first orphanage in New York City.
Stop at the Washington Monument to admire some of Eliza's hard work. You can ride an elevator 500 feet above ground level to get an amazing view of the city.
The National Archives contain three of the most important documents that shaped our country: the Bill of Rights, the U.S. Constitution and the Declaration of Independence. Hamilton attended the Constitutional Convention in Philadelphia, where the U.S. Constitution was created. He also authored 51 of the 85 Federalist Papers, which justified the Constitution to the American public and won support for the document. The National Archives museum is open daily from 10 a.m. to 5:30 p.m., and reservations can be made in advance.
Philadelphia: "I was chosen for the Constitutional Convention!"
As the nation's first capital, Philadelphia still holds much of America's and Hamilton's story. In downtown Philadelphia, the Historic District will walk you through the Constitution's creation. Take a tour of Independence Hall, where the Declaration of Independence was signed in 1776 and where the U.S. Constitution was later created. If you want to soak up all of the American history available in this small city, follow the Official Historic Philadelphia Trail.
Elizabethtown, New Jersey: "Raised enough for me to book passage on a ship/That was New York bound."
Fresh off the boat from Nives, a young Hamilton attended Snyder Academy of Elizabethtown before going to King's College at Columbia. At the end of your drive down the New Jersey Turnpike, Elizabethtown is a nice pit stop.
While in Elizabethtown, stop by Boxwood Hall, where Elias Boudinot lived from 1772 to 1795. Boudinot was one of Hamilton's first acquaintances in the U.S. After Boxwood, visit Snyder Academy of Elizabethtown, where Hamilton first studied for two semesters. Then, stop by Liberty Hall Museum, the former home of then-New Jersey Gov. William Livingston, with whom Hamilton first lived when he arrived.
New York City: "The greatest city in the world."
To get the full Manhattan Hamilton experience, start on Wall Street, whose modern banks represent his financial legacy. As the first Treasury secretary, Hamilton established the national debt, along with the U.S. Mint and treasury. Although most of the other founding fathers disagreed with Hamilton's financial plan (evident in "Cabinet Battle #1" and "The Room Where It Happens" in the musical), Hamilton's plan is much of why the United States became an economic powerhouse. 
After soaking in Wall Street, stop at Trinity Church to see where Hamilton and his family are buried. Then head uptown toward Harlem, where Hamilton lived.
First stop uptown is the Morris-Jumel Mansion. The mansion served as Washington's wartime headquarters for five weeks in the fall of 1776. This happened to be right after Hamilton had performed well in the Battle of Brooklyn. Washington took notice of Hamilton and asked him to help plan the Battle of Hamilton Heights, one of the Revolutionary Army's first decisive victories. Aaron Burr later occupied the house after he married Eliza Jumel. Miranda visited the mansion frequently when he was writing the musical, and wrote "Wait for It" and "The Room Where It Happens" in Burr's old bedroom.
From there, make your way down to the north part of St. Nicholas Park at 141 St. to see Hamilton Grange, the only home Hamilton owned. After experiencing personal and political losses (a public adultery scandal, the death of his son and banishment from the John Adams administration), Hamilton spent his last few years here. The home was originally located at 143rd St. and Convent Avenue, but it was moved to its final location in 2006. The musical's "It's Quiet Uptown" captures Hamilton's more removed final years of life. Walk a few blocks from his former home to the Grange, a bar where you can grab something to eat as you reflect on yours and Hamilton's journey through U.S. history.
If you're feeling lucky, head down to Times Square and stop by the Richard Rodgers Theatre on 46th St. between Seventh and Eighth Avenues. Put yourself in the Hamilton ticket lottery, and see if you can win those seats to the American musical after all.
Bonus points: "Weehawken. Dawn/ Guns. Drawn"
If you're not ready to go home yet, you can make it all the way to the end of Hamilton's life as well. Go back across the Hudson River to Weehawken, New Jersey, where Hamilton was shot in his fateful duel with Burr. And if you manage to rent a boat and row across the river just like Hamilton at dawn, then you are the undisputed No. 1 Ham Fan.