11 slow cooker recipes good enough to eat any time of year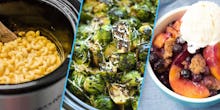 Slow cookers rule. They're relatively inexpensive and they are kitchen powerhouses — they can cook breakfast, lunch, dinner, dessert and snacks galore. Add your ingredients, set your cooker and go on your merry way for a few hours. Hot, delicious, homemade food will greet you upon your return. Is there anything better? (Real takeout notwithstanding.)
If you only break out your slow cooker during winter months, get hip with this magical machine's capabilities. From oatmeal to Chex mix to berry cobblers, there's no end to the slow cooker's versatility. Need some inspiration? Check out these 11 super helpful slow cooker recipes. 
Breakfast: 
Apple Pie Oatmeal 
Go to bed and wake up with fresh cooked oatmeal? It's as easy as apple pie, and tastes like it, too. This mix of fresh apples and steel cut oats has tons of fiber to get you fueled up. Bonus: Your whole home will smell amazing. Get the recipe here.  
Spicy Chickpeas 
This bean stew is what dreams are made of. Rev up breakfast by spreading these protein-rich, savory chickpeas onto toast. Put an egg on it if you're feeling extra fancy. Get the recipe here.  
Blueberry Cinnamon Rolls
Indulge in homemade cinnamon rolls without having to wait for your dough to rise. With this recipe, the dough rises and cooks in your slow cooker — no fridge or oven required. A lemon glaze drizzled over these hot blueberry rolls is the brunch you deserve. Get the recipe here. 
Snacks: 
Chex Mix
Crunchy and salty, Chex mix is a party snack staple. (Bonus: It's naturally gluten-free, too.) Skip the store-bought kind and make your own batch at home — you can customize the flavor with your favorite hot sauces. Get the recipe here. 
Lunch and Dinner: 
Lo Mein
Having dinner ready and waiting for you when you come home at night is every lazy person's dream. Skip the takeout and let your slow cooker do all the work — this easy recipe shows you how. All you need to do is boil some noodles, set it and forget it. Get the recipe here. 
Corn on the Cob
Don't monopolize precious space on your stovetop or grill. You can cook corn on the cob right in a slow cooker, and the kernels will become tender and flavorful. Get the recipe here.
Mashed Cauliflower 
Cauliflower is incredibly versatile since it doesn't have an overpowering flavor. Cooking it brings out a creamy texture that mimics mashed potatoes. If you're going low-carb, you'll love this garlic and herb-flavored version. Get the recipe here.
Macaroni and Cheese
Consider cheese a main food group? Ditch the Easy Mac and whip up homemade mac in your slow cooker. Dump your ingredients in and work up an appetite for three hours while the cheesalicious concoction cooks. Butter, sour cream and heavy cream aren't exactly diet-friendly, but your taste buds will be in cheese heaven. Get the recipe here. 
Balsamic Brussels Sprouts 
Sprouts topped with a summery balsamic reduction sauce are a great way to fill up on fiber. A cup of Brussels sprouts delivers about 3 grams of fiber and 3 grams of protein, according to the USDA. Top your veggies with fresh Parmesan cheese and you'll have to stop yourself from eating the whole thing in one go. Get the recipe here. 
Dessert: 
Blueberry Peach Cobbler
Nothing says summer like warm fruit cobbler with a sweet crumble topping. This recipe uses a scant amount of sugar and butter to keep the treat healthier than your average cobbler. Get the recipe here. 
100-Calorie Chocolate Chip Cookies
If brownies and chocolate chip cookies had a baby, it'd taste something like these scrumptious desserts. A divinely fudgey texture makes them irresistible — and at 100 calories each, it's okay to have more than one! Get the recipe here.