Verizon's Mobile Reality Show 'The Runner' Launches — And You're Part of the Game, Too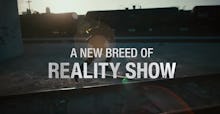 A real-life game of cat and mouse is unfolding on the ground and on mobile phones in the United States. On Friday, what Verizon has described as a "new breed of reality series" — one that streams through a mobile app and whose outcome is at least partially determined by viewers' participation — launched through its mobile-first network Go90. Go90 hit iTunes App Store and Google Play in October.
Called The Runner, the series, which will play out over the month of July, involves one "runner" attempting to complete six checkpoints across the country. All the while, he or she is being pursued by five separate teams of "chasers" whose goal is to intercept the runner. 
The longer the runner can outsmart his or her pursuers, the more cash he or she will win; for every day the runner avoids capture, the "bounty" on his or her head goes up, meaning chasers have an increasingly larger cash prize to snag. 
Meanwhile, viewers are encouraged to pick a team they want to see win and assist them in capturing the runner by answering a number of clue questions through the mobile app or online. 
According to the show's production team, which includes Ben Affleck and Matt Damon, the streaming reality series is about meeting mobile users where they're at — on their phones. "The Runner raises the stakes for reality series in the streaming video space," Chip Canter, GM of digital entertainment at Verizon, said in a statement. Canter said viewers can expect footage in "real time," with "lightning-speed editing" spread across three episodes a day for 30 days. 
"It aligns perfectly with our vision for Go90, which is to push the boundaries on mobile and digital entertainment to suit our audience," he said. 
The Runner's daily episodes air at noon, 3 p.m. and 10 p.m. Eastern. Each will be hosted by Kaj Larsen of Vice News and Matthew Patrick of YouTube's The Game Theorists. Viewers can watch via the Go90 app or on AOL.com. 
Watch a trailer for the series below, via YouTube: 
Read more: