Donald Trump is Having Trouble Getting Anyone to Speak At the RNC in Cleveland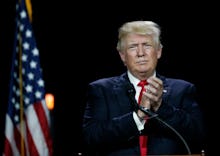 With scant prominent figures in the Republican Party willing to volunteer themselves to speak at the upcoming GOP national convention in July, real estate mogul and presumptive GOP nominee Donald Trump has turned to "family, sports figures and business leaders" to fill the gap, CNN reported.
A number of high-profile Republicans, including former nominees Gov. Mitt Romney and Sen. John McCain, have stated their intent to skip this year's nominating convention. Dozens of other GOP leaders have decided to sit out this round as well. Their ranks include prominent current and former senior officials, governors, senators and representatives, from South Carolina Gov. Nikki Haley to former Vice President Dick Cheney.
Politico reported it had reached out to "50 prominent governors, senators and House members to gauge their interest in speaking ... Only a few said they were open to it, and everyone else said they weren't planning on it, didn't want to or weren't going to Cleveland at all — or simply didn't respond."
"I'm not," South Carolina Rep. Mark Sanford told the site. "But hope you have a good Thursday!"
"Normally, people want to speak at national conventions," GOP strategist Stuart Stevens told Politico. "It launched Barack Obama's political career."
In their absence, CNN reported, Trump has turned to campaign surrogates including Dr. Ben Carson and is planning on hosting a "winners' night" featuring sports stars like "New England Patriots quarterback Tom Brady, UFC fighter Dana White and NASCAR CEO Brian France."
Several vice presidential contenders are likely to address the crowds regardless of whether Trump picks them for the ticket, reported Yahoo, such as "Newt Gingrich, Chris Christie, Oklahoma Gov. Mary Fallin, Arkansas Sen. Tom Cotton, and former Arizona Gov. Jan Brewer."
Trump's family, including all four of his eldest children and his wife, Melania Trump, will also reportedly fill speaking slots.
"Ivanka, Tiffany, Don, Eric -- they are going to be speaking," Trump told a crowd at a rally in Colorado. "My wife is going to be speaking at the convention. We're going to have a great time."
According to Trump, he considered giving an unusual three speeches at the convention.
"I turned it down," he told the New York Times. "Everybody wants that. I don't want people to think I'm grandstanding — which I'm not. But it would get high ratings ... there's a lot of sameness in conventions. At the same time, you don't necessarily want to reinvent the wheel. You don't want to make it so different that it's no longer a convention."
Read more: